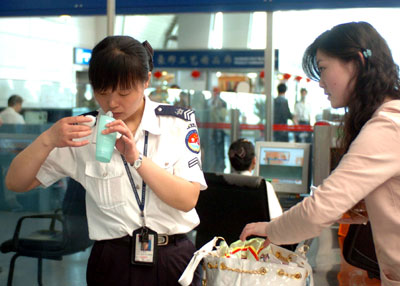 An airport security worker checks the carry-on of a passenger at an airport in Chongqing, April 30, 2007. [Xinhua]
Passengers taking international flights from the Beijing Capital International Airport during the May Day holiday should arrive at the airport at least 2 hours before departure because of extended security checks.
A new rule starts today, limiting passengers to carrying no more than 1 liter of liquid in their hand luggage.
"Security checks now may take longer than usual," Lu Haifeng, assistant manager of quality and safety department at the airport, said.
The airport is expected to receive more than 1 million passengers during the weeklong holiday.
The General Administration of Civil Aviation (CAAC) introduced the new rule in accordance with the recommendation by the International Civil Aviation Organization.
For passengers on international flights, all liquids carried in hand luggage must be held in containers with a capacity of no more than 100 milliliters. The containers should be placed in a transparent, re-sealable bag with a maximum capacity of 1 liter. Each passenger will be allowed to carry only one bag.
Exemptions will be made for baby milk and baby food in the baby's presence as well as medications with prescriptions.
Women passengers should also be aware that facial cream, lip gloss, perfume and even mascara all come under the liquid category.
"The airport will provide free bags at counters in front of the security check machine," Lu said.
Big screens in the airport have started to broadcast notices in both Chinese and English, reminding travelers of security rules.
The airport police will also boost patrols during the holiday, and there will be more staff working at security checkpoints.
The restrictions will not affect customers shopping at duty-free shops, but shoppers must retain all receipts and not open the package.
"Those who need transfer flights at a foreign airport should consult with their airlines to understand the different rules in various countries," Lu said.
On domestic flights, the restrictions are slightly looser. Passengers are allowed to take no more than 1 liter of liquid in their hand luggage, but there is no limit on the size of the containers.
The liquid ban was first introduced on December 11, 2006, after British police foiled a terrorist plot to smuggle liquid explosives onto an aircraft that was scheduled to fly from Britain to the United States in August 2006.
Soon afterwards, the CAAC adopted the measures for passengers flying to the US and have been effective ever since.