SHANGHAI: For Wan Gang, China's new minister of science and technology - and also the first non-Communist minister for many decades - there are two things that he cherishes most.
One is a kerosene lamp and the other a clean fuel automobile model.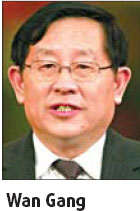 The lamp sits on the top of the book-shelf behind Wan's desk at Tongji University one of China's best engineering schools in Shanghai, where he has been its president before his latest promotion last week.
Wan said: "Each time when I saw the lamp, it reminded me of the most difficult time in my life. It helps me understand what those downtrodden people want."
Wan said that in the days when he was working on a farm in Yanbian, Jilin Province from 1969 to 1975, the most frequently used lighting device was a kerosene lamp, now very hard to find in Shanghai.
When a colleague found one in a pulled-down factory, Wan took it as a valuable present and put it on the highest position in his office.
During his years in Yan'bian, Wan had a few brushes with death.
A glimpse at the new minister
Wan Gang, a native of Shanghai, was born in 1952, graduated from Northeast Forestry University in Helongjiang Province, and obtained a master's degree in engineering from Tongji University. He received a doctorate of engineering from the Technical University of Clausthal, Germany in 1990. A professor of automotive engineering at Tongji, he became president of the university in 2004 and the country's minister of science and technology last week.
2004-2007: President, Tongji University.
2002-2004: Served at the university as vice-president, assistant president, director of Center of Automotive Engineering, director of China-Germany College and dean of Automotive Studies College.
1996-2002: Manager, Audi AG, Technology General Planning Department Germany, Ingolstadt.
1991-1996: Program Manager, Audi AG, Technology Development Department Germany, Ingolstadt.
1990: Graduated from the Technical University of Clausthal Germany, Clausthal-Zellerfeld with doctorate degree.
1981: Graduated from Tongji University.
1975: Graduated from Northeast Forestry University.
Once, he was almost crushed by a giant tree while chopping it, and another time while building a dam, he was hit by a falling boulder and went in a coma for 10 minutes.
Later Wan was able to further his studies at the Northeast Forestry University majoring in mechanics.
"Then I heard an inspiring saying in my life and it was from my university teacher - every person has his mission to fulfill and simultaneously endure hardship. So there is never time for frustration. Just keep up your efforts."
Wan was later admitted to Tongji University, and in 1979, he did his postgraduate study on experimental mechanics in the Structural Theories Research Institute of Tongji University and earned a master's degree in 1981.
"The spirit of Tongji is that each professor takes a down-to-earth approach. Although we no longer say Tongji is the cradle for quality engineers, both professors and students believe in 'speak less and do more'."
Wan said he had feelings of nostalgia when leaving the university to take his new post as a minister in Beijing.
In 1991, Wan began to work at German Audi Corporation, in charge of computer virtualization of automobiles.
In 1996, he was promoted to technical manager in the production and technology division.
His leadership and contribution in many technological innovations facilitated the production of the Audi A4, one of the most popular vehicles in the world.
"At that time I was at the climax of my career as a senior manager in Germany. However, Tongji President Li Guohao persuaded me back to Shanghai during Christmas 2000."
Wan flew back to Shanghai and became a professor in Tongji. Meanwhile he started his clean energy automobile project.
In 2000, Wan proposed to the State Council to develop a new type of automobile propelled by new clean fuel.
His proposal received support from the Science and Technology Ministry and the State Economic and Trade Commission.
By the end of 2000, he was appointed chief scientist and group leader of the 863 key electric automobile projects assigned by the Science and Technology Ministry.
He handled the most demanding part in this project the development of a fuel cell sedan.
Wan recalled: "When I started the project, there were three members including me. Now the team has 200 talented people, mostly professors and students of Tongji."
Reflecting on his prized kerosene lamp, Wan wants to bring it with him to his new post, perhaps symbolically lighting the way.
"The kerosene lamp is not allowed on airplane. Maybe I will bring it to the Beijing office in our car fleet - the new clean fuel car fleet."
(China Daily 05/01/2007 page1)