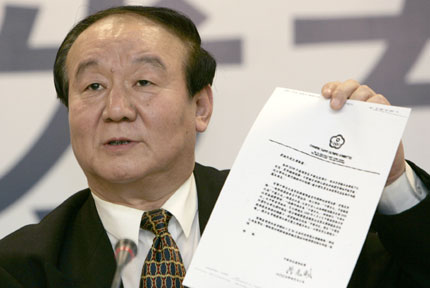 Jiang Xiaoyu, executive vice-president of the Beijing Organising Committee for the Olympic Games (BOCOG), brandishes a letter at a news conference in Beijing April 27, 2007. He said the refusal by Taiwan authorities to admit the Olympic torch surprised the IOC and the Beijing Games organizers, saying the island's Olympic committee had reneged on an earlier agreement to let the relay pass through. [Reuters]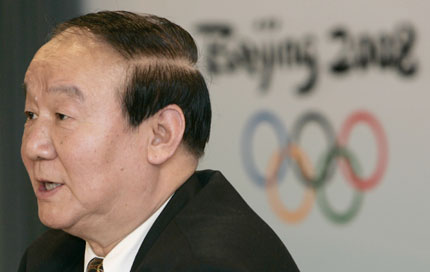 Jiang Xiaoyu, executive vice-president of the Beijing Organising Committee for the Olympic Games (BOCOG), speaks at a news conference in Beijing April 27, 2007. [Reuters]


The grandiose plans for the torch relay, the high-profile prelude to the 2008 Beijing Olympics, were announced Thursday evening in Beijing, with a stop in Taipei.

But within hours of Beijing's announcement of what would be the longest torch relay in Olympic history -- an 85,000-mile, 130-day route that would cross five continents and scale Mount Everest, Taiwan authorities rejected its inclusion.

"It is something that the government and people cannot accept," Tsai Chen-wei, the head of Taiwan's Olympic Committee, said in Taipei.

The relay, which is supposed to embody the Olympic values of friendship through sports, is a popular public-relations tool and the only contact most people have with the Olympics.

"The Beijing 2008 torch relay will, as its theme says, be a journey of harmony, bringing friendship and respect to people of different nationalities, races and creeds," IOC president Jacques Rogge said at the ceremony.

As with all Olympics, next year's relay will begin in Greece on March 25. After circling Greece, it arrives in Beijing on March 31. Following that, it will wind across Asia, Europe, the Americas, Africa and then back to Asia and China before the torch ignites the cauldron at the opening ceremony August 8, 2008, in Beijing's 91,000-seat National Stadium.

Taiwan wanted to participate as part of the international route -- with the torch entering and departing the island via other nations. Beijing said the island run to be part of the domestic route.

In an attempt at compromise, Beijing Olympic organizers said the torch would pass from Vietnam's Ho Chi Minh City to Taipei, and then to Hong Kong and Macao.

"I sincerely hope that Taiwan compatriots can enjoy the glories and joy of the torch relay," said Jiang Xiaoyu, executive vice president of the Beijing Olympic organizing committee.

Jiang also said Beijing organizers had received a written pledge from Taiwan to participate.

"We received a signed letter in March from the head of the Taipei Olympic Committee," Jiang said, adding that Taiwan had agreed to the torch entering from Vietman and leaving for Hong Kong.

"This route is a domestic route that constitutes an attempt to downgrade our sovereignty," Tsai said.

Tsai's comments contradicted an April 13 statement by another Taiwanese Olympic official, who said the island could accept a spot on the torch route that involved Hong Kong.