China's national bird selection is creating a flap with the public. It's not about the bird, but its name.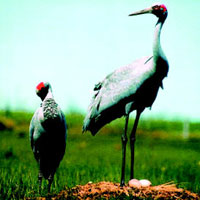 The country's State Forestry Administration (SFA) suggested the avian symbol of China should be the dandinghe in Chinese, otherwise known as the Japanese crane, but people aren't happy with its associations with Japan.
The SFA chose the endangered bird because in Chinese, Japanese and Korean tradition, the bird with its white feathers and red crest is a symbol of peace and long life. The state council will make a final decision.
But in cyber discussions on billboards, many people are angry the SFA chose a national bird that has Japanese associations in its name, whipping up anti-Japanese sentiment.
"It is definitely unacceptable," said Chenzhou Zhu, a wildlife photographer. "Although dandinghe is considered a symbol of longevity, it's not reasonable to pick a "Japanese" bird as the icon of the country."
Another wrote on an Internet forum on qq.com: "A Japanese bird sounds awkward. It reminds Chinese people of Japan and it's disgrace to China."
Yuan yang, or Mandarin duck has become a popular alternative to the Japanese crane, because of its Chinese origins. Mandarin ducks are frequently featured in Chinese art and are regarded as symbols of life long mates and fidelity. But the SFA did not nominate it as an possible national icon.
China and Japan are still at odds over a slate of thorny issues, ranging from Japan's invasion of China during World War II, to squabbling over gas resources in the East China Sea. Chinese Premier Wen Jiabao tried to thaw the icy relations in a recent visit to Japan, the first by a premier in seven years.
Even though relations between China and Japan are improving, many Chinese people still think the national bird should not have any links to Japan.
It is the second time China is abuzz when it comes to national animals. Last year, the question of whether the dragon should be China's national animal evolved into a heated discussion.
Lixin Jin, a professor of the Language and Culture Research Institute at the Shanghai International Studies University claimed the dragon represented China's imperialist past and as such should be replaced.
But Jin's suggestion runs counter to the mythical animal is deeply rooted in China's 5,000 year history.
Forty countries around the world have chosen birds to represent their nations.