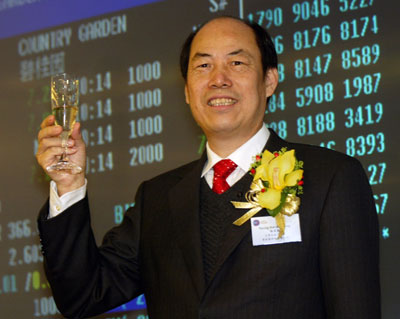 Country Garden chairman Yeung Kwok-keung celebrates during their debut at the Hong Kong Exchanges in Hong Kong April 20, 2007.[Reuters]
http://www.nytimes.com/2007/04/21/business/worldbusiness/21garden.html
The 52-year-old Chinese farmer turned developer is as plain as the company's English name: Country Garden. But there was nothing ordinary about his company's debut Friday on the Hong Kong Stock Exchange.
Friday morning, at 9:30 a.m., shares of Country Garden soared 35 percent on the opening day of trading in one of Chinas hottest initial public offerings of the year. When trading ended, this little-known real estate company based in southern China was valued at $15 billion, making the family of Yang Guoqiang, a dirt-under-the-fingers property tycoon, perhaps the richest in China.
In many ways, Country Garden's public offering - which raised about $1.6 billion, or as much as Googles 2004 stock offering raised in the United States - is just the latest symbol of China's meteoric rise, and this country's continuing stock market fever.
After more than two decades of spectacular economic growth, fueled mostly by building factories that export low-cost goods, China has a rising number of entrepreneurs who are forming private companies, going public and getting extremely rich.
"The general economic environment here has unleashed this tremendous entrepreneurial spirit," said Jing Ulrich, chairwoman of China equities at JPMorgan. "People who in the past saw their ambitions stifled are now seeing them realized. They're going public."
There are Internet pioneers, like Robin Li of Baidu and Ma Huateng of Tencent; billionaire retailers, like Huang Guangyu of Gome; and real estate barons like Xu Rongmao of Shimao, Zhu Mengyi of Hopson and Country Gardens Yang Guoqiang, who told journalists a few months ago that for years he planted rice, tended cows and mixed cement before founding Country Garden in 1997.
Now, his company is a virtual assembly line of home building for China's raidly growing middle class. Mr. Yangs genius is that he has a created a Wal-Mart approach to housing development for the middle class.
Mr. Yang could not be reached for comment Friday and rules on public listing prevent company executives from promoting their stocks.
The company has the backing of some of Wall Street's biggest investment bankers, including Morgan Stanley and UBS, and its profits this year are expected to reach $500 million, putting Country Gardens earnings in league with the worlds biggest corporations.
In an odd twist to his rags-to-riches tale, in 2005 Mr. Yang gave all of his shares in Country Garden to his daughter, Yang Huiyan, now 25, who will someday run the company. After Fridays listing, those shares are worth about $9 billion, which probably makes her China's wealthiest individual.
Zhang Yin, the 50-year-old woman who controls Nine Dragons Paper, a company that recycles American waste paper and sells it to factories here in China, is far behind at about $3 billion. Her company went public early last year.
The richest person in China last year, according to Forbes, was Huang Guangyu of the privately controlled Gome, the giant electronics retailer. He was said to be worth $2.3 billion, but was easily eclipsed Friday by the heirs of Country Garden.
That makes Ms. Yang, who studied in the United States and owns 60 percent of Country Garden, richer even than George Soros, Steven P. Jobs of Apple and Rupert Murdoch.
Her fortune was made possible, of course, by a global investment frenzy for all things Chinese, particularly stocks.
Last year, Hong Kongs stock market raised more money from public offerings than the New York Stock Exchange and the Nasdaq Stock Market combined, thanks to the listing of some of Chinas biggest state-owned banks.
Hong Kong is getting more help this year from another Chinese lender, Citic Bank, which raised $5.4 billion Thursday in the world's biggest initial public offering yet in 2007, according to Bloomberg News.
Shanghais stock market has been even hotter, so hot in fact that the Chinese government is worried that a 200 percent jump in share prices in the last 16 months is beginning to look like a stock market bubble soon to burst.
The sense of frenzy can be seen at brokerage houses throughout the country, where mostly elderly people congregate in front of huge red trading scoreboards or cheer their stocks on from the rows of plastic seats that resemble those found in an old bus terminal.
With millions of Chinese now racing to invest in stocks at home, everyone wants to be listed and everyone wants to own a public company that has an opening-day pop reminiscent of the dot-com boom in the United States.
"This is the kind of thing that gets people excited, that encourages people to become more entrepreneurial in China," said Chen Zhiwu, a professor of finance at Yale University who in recent months has been visiting Chinese entrepreneurs, including lesser-known ones like Jason Jiang, whose company puts screens with advertisements in elevators.
"People like Robin Li of Baidu and Jason Jiang of Focus Media really excite people," the professor said. "Many people think they, too, can create their own companies. The big state-owned banks can have big IPOs, but no one cares about their stories. It's the entrepreneurs who are really changing China."
But investors are hardly ignoring the banks. The Industrial and Commercial Bank of China, which a few years ago was saddled with debt, is now worth about $220 billion, making it the third-most-valuable bank in the world after Citibank and Bank of America.
On a smaller scale, Tencent, owned by 35-year-old Ma Huateng - one of Chinas biggest Internet companies - is already worth $5.7 billion.
And then there are the real estate barons, who have often used their political connections to get access to cheap land, only to see land and housing prices soar as the countrys increasingly wealthy look to purchase their first homes.
Now, companies like Hopson, R&F and Agile Property Holdings have in recent years gone public in Hong Kong, and then watched their shares soar 100, 200 and 650 percent since listing.
Shimao, a developer of luxury properties based in Shanghai, is valued at more than $7 billion.
The story of Country Garden, which is based in Guangdong Province, near Hong Kong, is much simpler.
According to analysts and accounts in the Chinese media, Mr. Yang grew up poor in the city of Foshan, worked as a farmer and construction worker and married a bricklayer who was in the same construction crew.
In the 1990s, he moved into real estate and acquired distressed property or even wastelands at a time when the future of the Chinese real estate market was still uncertain.
When the government began reforming the market and allowing companies to acquire public land and sell plots to home buyers in the late 1990s, the market began to take off.
Now, Mr. Yang, who is the company's chairman, is sitting on huge reserves of land and churning out new, modestly priced homes at breakneck speed, analysts say.
"I get the land and sell properties at a reasonable price," Mr. Yang told investors during the road show before the public offering. "I move a lot of product."
(Courtesy of New York Times)