Berlin: China pursues a road of peaceful development and will not pose any threat to other countries in the world, said Cai Wu, minister of the Information Office of the State Council on Friday.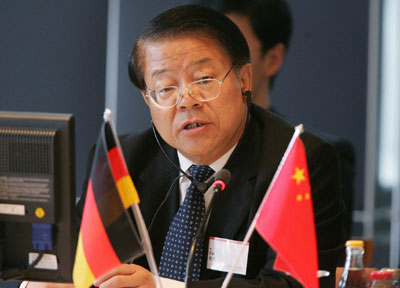 Cai Wu, Minister of China's Information Office of the State Council, speaks at the Sino-Germany Media Forum in Berlin April 20, 2007. [Photo by Chen Fafen]
"China was not, is not and will not be a threat to other countries," Cai told the Sino-Germany Media Forum in Berlin.
China would stick to a mutual-beneficial strategy of opening-up, said Cai, adding that the country's development have brought more opportunities to other countries, including Germany.
China has made a remarkable economic achievement since 1978 after the country implemented the opening-up and reform policy. The country contributed to 10 percent of the world's economic growth and 12 percent to the international trade, according to the minister.
Cai pledged that China would cooperate with major trade partners to work out a solution to trade imbalances, while calling for removal of trade barriers and further opening of markets.
The minister also reiterated China's strong opposition to terrorism and the proliferation of weapons of mass destruction, saying the country would actively take part in global anti-terrorism cooperation.
Turning to China-Germany relations, the minister said the two major powers have great potential in collaboration and a bright future for cooperation.
"The countries have no conflicts of fundamental interests and no historical bitterness, laying a solid foundation for bilateral exchanges and cooperation," said Cai.
Both countries have expressed their willingness to intensify bilateral cooperation in the fields of technology, education, culture, legal system, tourism and training, Cai pointed out.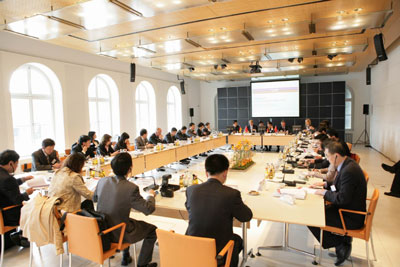 Participants attend the Sino-Germany Media Forum in Berlin April 20, 2007. [Photo by Chen Fafen]
The top information official of China also aims high on media cooperation between the two countries.
Cai said that his office is willing to provide timely, comprehensive and objective information on China to the media around the globe, including Gemany.
China would like to learn advanced management experience and business concept from Germany in the development of the media industry, said Cai.
China attaches great importance to the cooperation between the media organizations in the two countries, said he, adding that he hope the media could help improve the understanding between the two peoples.