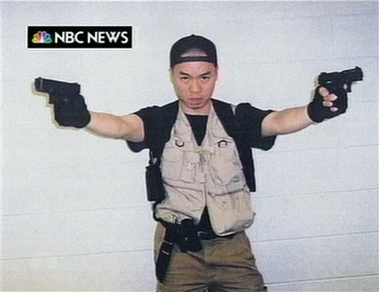 This video frame grab image taken from a video aired by NBC News on Wednesday, April 18, 2007 shows Virginia Tech gunman Cho Seung-Hui. The video was part of a package allegedly mailed to the network on Monday, April 16 between Cho's first and second shootings on the Virginia Tech campus. [AP/NBC]


The Foreign Ministry Wednesday criticized some US media for "irresponsible reports" claiming that the killer in the Virginia Tech shootings was Chinese.
Special coverage:
US School Shooting

Related Video:
33 dead in US campus shooting

Related readings:
A nation can't be tarred by one killer
Another scare rattles Va. Tech campus Va. Tech gunman sent material to NBC
Family of shooter struggled in S.Korea
Va. Tech gunman was from S.Korea
China strongly condemns Virginia shooting
Gunman kills 32 in US campus shooting
Bush: Shootings affect all students Shooting story spreads quickly on TV
Spokesman Liu Jianchao said it was a terrible mistake and a violation of professional ethics to publish reports before checking the facts.

Before it was revealed that the gunman who killed 32 people on the Virginia campus on Monday was a student from South Korea, Michael Sneed, a columnist for Chicago Sun-Times, wrote that the shooter was a 24-year-old man from China.

MSNBC, which cited Sneed's story on its website, said he went to the US last year on a student visa issued in Shanghai.

Some reports even made public the blog of "Chinese shooter" Jiang Wei'en.

But the US police later identified the killer as Cho Seung-hui; and university officials said he was a "troubled" young man on medication for depression. He is believed to have killed himself.

Sneed's story was immediately picked up by other media in the United States and Jiang's blog had more than 37,000 visits in a few hours.

For those checking the blog hoping to find out the motive behind the shooting spree, Jiang decided to speak up.

Chinese President sends condolence

President Hu Jintao yesterday extended his condolences to US President George W. Bush over Monday's mass shooting at a university in the state of Virginia.

In a message to Bush, Hu said he was shocked to learn about the tragedy.

"At this sorrowful moment, on behalf of the Chinese government and the people, I would like to express deep sympathy and sincere consolation to your excellency, the US government and people," Hu said in the message made public by the Foreign Ministry.

Hu also offered condolences to families of the victims and wished the injured a speedy recovery.

"Everybody was talking about me as a criminal. I just want to prove my innocence," Jiang told ABC in an interview widely quoted by Chinese websites.

"Yes, I am an Asian; I live in a school dorm; I am a student of Virginia Tech; I just broke up with my girlfriend and I love guns. But I am NOT the murderer," he said.

Jiang said he received death threats till the time the South Korean student was identified as the killer.

Many Chinese students at Virginia Tech are also angered by the US media reports and some said they would write a letter of protest to the Chicago Sun-Times.

They pointed specifically to Sneed's story.

"The reckless report put pressure on, and tarnished the image of, the Chinese community here in Blacksburg as well as in the US," said the Association of Chinese Students and Scholars at Virginia Tech (VT-ACSS) in an email to China Daily.

VT-ACSS is the largest international organization on campus. There are over 900 Chinese studying in Virginia Tech or working in neighbouring towns.