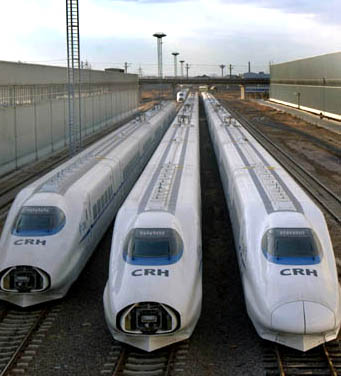 Brand new homemade high-speed trains CRH are seen at a railway station in Jinan, East China's Shandong Province, April 12, 2007. The CRH trains which could run at least 200km per hour, will serve on high speed routes between major cities after the sixth nationwide railway speedup from April 18. [Xinhua]


A train designed to run at a speed of 200 km per hour left east China's Shanghai for Suzhou early Wednesday morning, ushering in a high-speed era for the world's fastest growing economy.

Related readings:


China considers cutting bullet train ticket prices


Bullet train gets off to slow start


China starts selling bullet train tickets


Bullet trains help tackle holiday passenger rush


China gets ready for sixth railway speedup


Safety first as railways get set for speedup

Nationwide, 140 pairs of high-speed trains with a speed of 200 km per hour or a faster speed will begin to hit the railways on Wednesday. The number will increase to 257 by the end of this year.

Numbered D460, the train left Shanghai on 5:38 a.m. and is expected to arrive in Suzhou 39 minutes later.

With today's sixth railway speedup, China will join the ranks of countries with high-speed rail services.

Trains will be able to run at speeds of up to 200 kph on some 6,003 km of track, and on some sections, the maximum speed will increase to 250 kph.

"That length (6,003 km) exceeds the total amount of rail lines capable of accommodating trains at that speed (200 kph) in nine European countries," said Vice-Minister of Railways Hu Yadong.

"And raising the speed to 200 kph on so much track in only one move is also rare in the world."

As of today, trains will be able to run at speeds of up to 160 kph on 14,000 kilometers of track and up to 120 kph on 22,000 km of track.

The need for speed


The first railway speedup happened on April 1, 1997. Besides lifting the average speed to 54.9 kph (it was officially recorded as 48.1 kph in 1993), it also saw the introduction of new express trains with a top speed of 140 kph. Also, to reduce journey times, some long-distance routes began operating overnight services.


The second speedup came on October 1, 1998 and was marked by a new top speed for express trains of 160 kph. The average speed for express trains rose to 71.6 kph, while standard passenger trains also accelerated to an average of 55.2 kph. The country's first luggage trains and nonstop trains to tourist destinations were also introduced.


Speedup number three came into effect on October 21, 2000 and was mostly concerned with the speed of trains traveling on the Lanzhou-Lianyungang and Beijing-Hong Kong routes. The average speed of standard passenger trains rose to 60.3 kph.


The fourth speedup came on October 21, 2001 and involved some 13,000 km of passenger routes covering the majority of the country. It saw the average speed rise to 61.6 kph and also the introduction of additional express trains.


The fifth speedup came into effect on April 18, 2004 and involved some 16,500 km of track. The average speed of passenger trains rose to 65.7 kph, while for express trains on arterial routes the top speed was upped to 200 kph.


The sixth speedup comes into play today. A total of 6,003 km of line will have their top speed increased to 200 kph, while on some sections, express trains will be able to hit 250 kph.

The 6,003 km of track capable of accommodating the fastest speeds will serve both high-speed passenger and heavily loaded cargo trains, which travel at slower speeds.

Railway operators will have to address the speed gap between the two kinds of trains to make sure they both run safely.

He Huawu, the ministry's general engineer, said the ministry had drafted an operational chart to allow trains to run at an interval of "only five minutes".

He added that it was rare for a rail operator to run such a tight schedule.

He also noted that in addition to the speed gap between passenger and cargo trains, the two have "totally opposite requirements for tracks". For example, high-speed passenger trains require a much smoother track than a heavily loaded cargo train, He said.

Other transportation experts have doubted the wisdom of running the two kinds of trains on one rail network.

"A heavily loaded cargo train's destructive power is the same as that of an overloaded vehicle on the expressway," Nanfang Weekly quoted an expert as saying.

However, He said railway authorities had adopted advanced technology to resolve any problems.

The country's rail system has reportedly benefited from several upgrades, including an advanced safety control system that includes 60-kg steel rails as well as the latest sleeper cars, the strongest switches available and anti-friction devices. The signal system has also been upgraded.

The system allows the authorities to maintain tighter control of high-speed trains, Initial experiments and a trial run have both yielded positive results.

He also said the ministry had set up systems for testing and monitoring, facilities management and emergency responses.

And for the first time, the ministry has installed advanced track that relies on laser technology.

"I can say that China's railway infrastructure and rail track technology have both reached an advanced level," He said.



| | | |
| --- | --- | --- |
| 1 | 2 | |