Twenty-three-year-old Cui Yingjie from Hebei Province was sentenced to death with a reprieve of two years on April 11. His case of killing a government officer caught national attention last year, and stirred up heated discussions in the country.
At five o'clock on the afternoon of August 11, 2006, vendor Cui Yingjie was selling baked sausages in Zhongguancun of Beijing's Haidian District. A group of "Cheng Guan" officers in charge of maintaining the appearance of the city found Cui's stall did not agree with Beijing's image and confiscated his stall on his tricycle.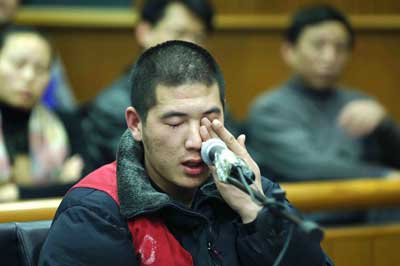 Cui Yingjie in the court [file]


A brawl took place and Cui stabbed his knife into officer Li Zhiqiang's neck. An hour later, 36-year-old Li died due to too the excess loss of blood. He became the first to die on the job since the Cheng Guan section was set up as part of the government organization eight years ago. Cui was charged with pre-meditated murder on November 27 later that year.
"This is originally a simple crime case, but the special roles of the two parties have made it a more symbolic incident," said a legal insider who prefers to remain anonymous.
"I begged them to leave my tricycle with me."
Cui shed tears of repent when the case first opened on December 12 last year. "I don't have much education or training. I came to Beijing to making a living with my own hands. First I was a security guard in a company, but they didn't pay me, so I became a vendor. I am not a vicious man, and didn't mean to kill Li. I feel most sorry for his family, and am willing to take responsibility for his death."
The video recording the brawl, which was considered as key evidence, was played in the court. The film showed a dozen of the "Cheng Guan" besieging Cui, who had a small knife in his hands. In a weak voice he says, "leave the tricycle, and take everything else with you." The Cheng Guan officers repeatedly ordered him to put down his knife.
"I was begging them to leave my tricycle, because I just bought it the previous day with borrowed money," Cui explained.
In the footage, despite Cui's plea, the officers took away Cui's vehicle. When they were leaving the area, Cui suddenly jumped the officers from behind, and then a chaotic scene followed. Cui then fled to an alley.
"My heart was torn apart when I saw my tricycle loaded onto the officers' truck," said Cui. He remembered an incident where a vendor who was selling melons was successfully able to reclaim his tricycle back and thought the same would happen to him and approached the officers.
"When I was passing by Li Zhiqiang, Li tried to catch me, so I pushed him slightly, but I didn't know where I stabbed him," Cui said, explaining his move that ended Li's life.
Xia Lin and Li Jinsong, Cui's counsels said Cui did not know Li previously and had no intention of murdering Li. They say he was acting in self-defense.
Professor Ruan Qilin from China University of Political Science and Law did not think it's proper to sentence Cui to death.
"Cui was punished when he was just trying to make a living. He was acting on impulse when the Cheng Guan confiscated his tricycle. It's different from pre-meditated murder, killing to cover the crime, or killing in a cruel way."
Xia also made his point clear in the court.
"Vendors have always been a legitimate profession. My client came to the city and did this modest job. His income was low, but he was always kind-hearted and na?ve, never stealing or robbing, never harming others in anyway. Standing on the court, I want to raise this solemn question. When one's tool he depends on to make a living is smashed, he is driven to desperation, would you be more calm and sober and patient than my client? We have lost Li Zhiqiang already, are we going to lose Cui Yingjie, too?"
Second thoughts on the Cheng Guan system
While people were expressing their condolences to Li Zhiqiang's death, some also began to rethink the controversial Cheng Guan system.
Cai Dingjian from China University of Political Science and Law said Cui's case raised questions of the legitimacy of the Cheng Guan system. Meanwhile, the conflict between the rights of those from outside of cities and the need to maintain the order of cities was also discussed on in the media.