KYOTO, Japan: Premier Wen Jiabao paid his respects on Friday to the late Premier Zhou Enlai (1898-1976) by laying a bouquet of flowers at a stone memorial nestled among pines and blooming cherry trees in Kyoto's Arashiyama Park.
The monument bears an engraving of Zhou's poem "Arashiyama in the Rain", which he wrote in 1919 while studying in Japan. The monument was erected to honor the late Chinese leader's contribution to the normalization of diplomatic relations between China and Japan in 1972.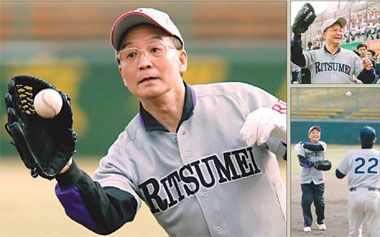 Premier Wen Jiabao catches a baseball during an exchange event with Ritsumeikan University's baseball team at Nishikyogoku stadium in Kyoto, western Japan, on Friday. Top right: Wen waves to the audience after the game. Right: Wen throws a ball during the event. The premier wraps up his visit to Japan on Friday. Reuters
While shaking hands with 89-year-old Yoshimura Hiroko, whose late father, Yoshimura Magosaburo, coordinated local efforts to erect the memorial in 1979, Wen said: "The monument your father helped to erect belongs to both the Chinese and Japanese peoples.
"The late premier was a pioneer who laid the foundations for Sino-Japanese relations," Wen said, adding that the best way to commemorate Zhou would be to further cement the good ties between the two nations.
"Relations between our two countries will continue to strengthen," Wen said. "I hope that soon the flower of friendship will bloom."
Wen, who started the "ice-thawing visit" to Japan on Wednesday, wrapped up two days of intensive talks on political, economic, cultural and international issues with his counterpart, Shinzo Abe.
"The visit was very successful," he said on Friday.
He said friendly, frank and pragmatic exchanges with Abe and other Japanese leaders had helped build a mutually beneficial strategic relationship between the two countries.
And the establishment of a high-level economic dialogue and the China-Japan Year of Culture and Sports Exchange will enhance the two countries' ties in trade, business and culture, he added.
He said the Japanese people he had met during his morning jog told him that they hoped that China and Japan could be friends for the sake of both peace and development.
However, he said both countries still needed more time since there were still a few problems to be resolved.
Wen arrived in Kyoto for an array of activities that allowed him to interact with common Japanese people.
He sipped tea during an authentic Japanese tea ceremony. And as a guest of Japanese farmer Yoshikazu Nagahama, he inspected farming equipment, planted two tomato saplings and tasted a home-made bean cake with his host's family.
He said the cake was similar to traditional Chinese red bean pastry.
After reading a poem by Tang Dynasty poet Li Bai with students of the private Ritsumeikan elementary school, Wen went to the athletic field of the private Ritsumeikan University, where he put on the uniform of the school's baseball team.
Wearing No 35, Wen, 65, ran a few sprints to get warmed up, played catch with other members of the team, threw a pitch and also tried his hand at bat. The audience cheered and clapped from the sidelines.
"I liked to play the baseball when I was young, but it's been some 50 years since I last touched a ball," he said. "I didn't play well, but I felt good about it."
The premier's effort to reach out the public to shorten the distance between the two countries was widely welcomed in Japan.
Sadao Soga and his wife Hisako, both in their 50s, drove an hour to Arashiyama Park to see the Chinese premier in person.
"I like Premier Wen because I think he looks like my husband," said Hisako.
Hisako said she was fascinated by Chinese culture and began studying Chinese with a radio program several years ago. The couple will take their sixth trip to Beijing next week.
Waving the Chinese flag to welcome Premier Wen Jiabao, Kinoshita Yousoke and his classmates gave a rousing welcome to the Chinese leader.
The fourth-year student at Ritsumeikan University said he had closely followed Premier Wen's activities in Tokyo, noting that the Chinese guest was the center of public attention.
He said he had been to the United States twice but had not had a chance to visit China, adding that he was looking forward to taking a trip here in the near future.
"When I think about China, I think about a lot of bicycles and Peking roast ducks," he said.