TOKYO -- China and Japan vowed to strengthen cooperation on regional and international affairs in efforts to build a mutually beneficial strategic relationship, according to a joint press communique released on Wednesday.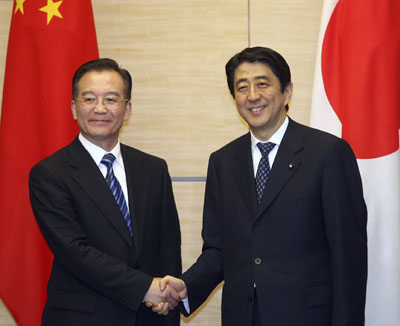 Chinese Premier Wen Jiabao (L) and Japanese Prime Minister Shinzo Abe shake hands following the China-Japan joint declaration signing ceremony in Tokyo, April 11, 2007. Wen arrived in Japan on Wednesday for a summit with Abe aimed at setting aside rancour over the past and focusing on ways to tame rivalry over energy and influence. [Reuters]
 

In the press communique issued after talks between Japanese Prime Minister Shinzo Abe and visiting Chinese Premier Wen Jiabao, the two sides agreed to enhance dialogue and communication on the issue of UN reforms.
And China would like to see Japan play a greater constructive role in international affairs, according to the communique.
Both sides reaffirmed their efforts to work together to realize the goal of denuclearization of the Korean Peninsula through dialogue and consultations and maintain peace and stability in Northeast Asia.
The two sides agreed that relevant parties to the six-party talks should make joint efforts to implement the document reached on February 13, 2007, the communique said.
In the communique, China expressed the hope that the relations between Japan and the Democratic People's Republic of Korea (DPRK) will be improved.
China and Japan also agreed to make efforts to reach a trilateral agreement on investment involving South Korea at an early date, and work out a plan of action for improving the business environment among the three countries.
Both sides agreed that the loans provided by Japan have played a positive role in both China's economic development and bilateral economic cooperation. The two sides also discussed the issue of providing aid for third countries.
Wen arrived here on Wednesday for a three-day official visit which he has described as an "ice thawer" in Sino-Japanese ties following the "ice-breaking" trip by his Japanese counterpart Shinzo Abe to China last October.
Prior to his Japanese tour, Wen paid a two-day official visit to South Korea.