Special coverage:
Premier Wen Visits ROK, Japan

Video:
Premier delivers speech in Japan Diet

Readers' Comment:
In the first address for 22 years by a Chinese leader to the parliament in Tokyo, Wen urged Japan not to forget its past but acknowledged its people had also been the victims of war.

"The Chinese public must foster friendship with Japanese people," he said, and laid the blame for Japan's invasion and 1931-1945 occupation of China -- a running sore for many Chinese -- on a "limited number" of wartime leaders.
- Wong

Related readings:
Premier Wen hopes to 'melt ice' in Japan
Premier meets with ROK President
Wen meets with youths in Seoul
Wen meets with S.Korea counterpartPremier to talk over nuke issue with S.Korean president
Tech giants look to Japan for expansion
Wen Jiabao's Japan visit
Premier Wen visits SK Telecom in Seoul
Beijing and Tokyo must work together to build better relations for their offsprings, while trying to learn from a tragic past, Chinese Premier Wen Jiabao said in a speech to Japan's parliament on Thursday.

"History shows us that peace and prosperity between us is very important to the people of both nations," Wen said in his 40-minute speech. "We must cherish our long history of friendship, of more than 2,000 years, to ensure long-term mutual prosperity."

Wen, 64, said China will cooperate to resolve a dispute with Japan over the development of natural gas in the East China Sea. China understands Japan's desire to play a bigger role in international affairs, he said.

On the second day of his 3-day visit, the Chinese leader said Japan must reflect on its military past, a reference to Japan's invasion of Asia in the first half of the 20th century. Japanese Prime Minister Shinzo Abe, 52, visited Beijing in October, helping to mend ties frayed by his predecessor Junichiro Koizumi's visits to a Tokyo shrine that includes memorials to leaders convicted as major World War II war criminals.

"There was a short period of Japanese militarism that hurt China deeply," Wen said. "That period brought tragedy to Japan as well. Just like Prime Minister Abe's visit to China was an ice-breaking event, I hope my visit will be similar in its impact on improving relations."

Wen's visit is the first by a Chinese leader to Japan in almost 7 years. He and Abe yesterday signed an agreement to fight global warming and Asian's two biggest economies released an accord to cooperate in energy sector. China also lifted its four-year ban on Japanese rice imports.

"It was important this time for both sides to show concretely the development of a strategic relationship," Japan's Chief Cabinet Secretary Yasuhisa Shiozaki said at a regular press conference in Tokyo. "That purpose has been achieved quite successfully."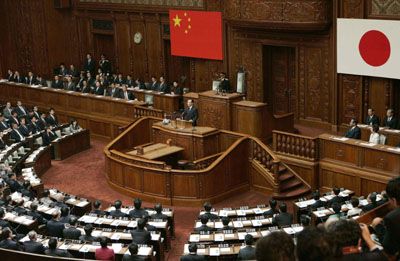 Chinese Premier Wen Jiabao delivers a speech to the Japanese parliament in Tokyo April 12, 2007. Wen made a pitch for new strategic ties with Japan, but also urged Tokyo to live up to its apologies for wartime aggression and never to support Taiwan independence. [Reuters]


Wen's speech "was very forward-looking and made positive remarks on a broad range of topics," Shiozaki said.

Abe told Wen that Japan won't change its stance that Taiwan is part of China, Shiozaki said. "We hope to seek a peaceful solution to the Taiwan issue, but we will never tolerate Taiwanese independence,'' Wen said in his remarks. "We hope Japan will respect this."

Wen praised the rise in trade between China and Japan, which has almost quadrupled in the last 10 years. Including Hong Kong, China is Japan's No. 1 trading partner with total trade exceeding $249 billion last year, up from $64 billion in 1997, according to the Japan External Trade Organization.

"China-Japan trade cooperation benefits both sides," Wen said, adding that he and Abe "agreed to raise our cooperation to a higher level. We must cooperate in the trade of technology, energy, culture and intellectual property."

More than 600 company executives from both nations met as part of Wen's visit. Cooperation will help stabilize global energy security, Ma Kai, head of China's main economic planning body, said in Tokyo.

Wen called on Japanese business to invest in cleaning up China's environmental problems during a lunch with the country's biggest business lobby.

"You have leading-edge environmental technology," he said to the members of Keidanren at the New Otani Hotel in central Tokyo. "Why not invest in our environmental cleanup?"

China has set the goal of reducing its per capita consumption of energy by 20 percent and its industrial emissions by 10 percent in the coming five years.

Japanese investors have poured more than $53 billion in China in the past two decades, becoming one of China's largest groups of foreign investors.