Police are investigating how rat poison ended up in the breakfasts served at a Harbin hospital cafeteria on Monday, leaving one person dead and 202 others sick.
The hospital's patients and staff who fell ill had earlier eaten breakfast in Heilongjiang Provincial Hospital of Traditional Chinese Medicine located in the capital of Harbin.
The hospitalized victims were in stable condition by yesterday afternoon, but were in need of further observation, according to local sources. Four patients were in serious but stable condition.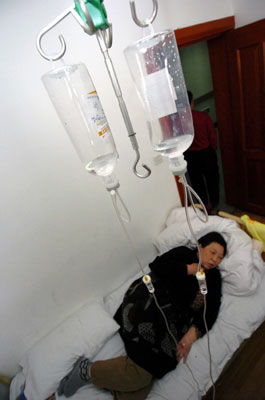 A patient receives transfusion therapy at Heilongjiang Provincial Hospital of Traditional Chinese Medicine in Harbin, Northeast China's Heilongjiang Province April 10, 2007. [Xinhua]

Local police and the provincial disease control center confirmed yesterday that a lethal rat poison, fluoroacetamide, caused the incident.

Wang Enhai, head of Heilongjiang Health Emergency Command Center, told Xinhua that investigators could not yet rule out that someone intentionally poisoned the food.

The victims, most of whom were already patients in the hospital, suffered from symptoms of nausea, vomiting and diarrhea after they ate breakfast.

"I heard that someone poisoned the hot water jug, which the cafe uses to make porridge," a hospital staffer told China Daily.

The restaurant was shut down immediately and the local health watchdog collected food samples for analysis.

"Luckily it was in the morning when most of our staff had not come to work yet, otherwise there would have been many more people poisoned," the staff member said.

The poison led to the death of 77-year-old Du Qingrong Monday afternoon. She was hospitalized last Friday for cardiovascular disease, Xinhuanet reported.

Wang of the command center said local health authorities have developed a detailed treatment plan to help victims.

The Ministry of Health quickly shipped more than 3,000 doses of acetamide injections to Harbin to treat the poisoned patients.

Earlier, 290 doses were transferred from the neighboring Jilin Province.

Public security departments were taking evidence yesterday from various sources in the hospital and details of the incidents were not released, said a hospital official.

The hospital, founded in 1957, is one of the largest and best-equipped medical institutions in Harbin, with more than 600 staff.

(China Daily 04/11/2007 page4)