The Bush administration announced new trade cases against China on Monday over copyright piracy and restrictions on the sale of American movies, music and books, and in Beijing China expressed on Tuesday great regret and strong dissatisfaction at the decision.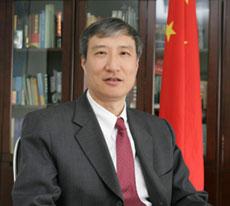 Tian Lipu, commissioner of the State Intellectual Property Office of China. [sipo.gov.cn]
"China expressed great regret and strong dissatisfaction at the decision of the United States to file WTO cases against China over intellectual property rights and access to the Chinese publication market," a spokesman for the Commerce Ministry said in Beijing Tuesday.

Wang Xinpei, the spokesman, said the US move runs against the consensus reached by leaders of the two countries on developing bilateral trade relations and appropriately handling trade problems.
"Such a move would seriously damage the cooperative relations established in the fields, and would have negative impact on bilateral trade," Wang said in a statement posted on the ministry's website (www.mofcom.gov.cn ).
The Chinese government's attitude towards intellectual property rights protection has always been resolute, and its achievements obvious to all, the statement said.

China so far has not received any request from the US for consultation under the WTO mechanism. Wang said China will seriously study it and make positive response once the US raises an official request.

Under WTO rules, if the parties to a trade dispute fail to iron out their differences within a 60-day consultation period, the complaining party may refer the matter to a WTO dispute settlement panel.

"It's not a sensible nor a rational move for the US government to file such a complaint," Tian Lipu, commissioner of the State Intellectual Property Office of China, said.
Related readings:



NYtimes editorial: No winner in a trade war
If these complaints add up to the hesitant first steps toward an all-out trade war with China, everyone will lose, including American workers, whom the White House and lawmakers say they are trying to protect.



Top official lashes out at US WTO action


China tightens anti-piracy enforcement


New ruling to snare more pirates


1.8m discs seized in piracy raid


Bo: China wants to keep trade surplus down


China wages war against piracy

"By doing so, the United States has ignored the Chinese government's immense efforts and great achievements in strengthening IPR protection and tightening enforcement of its copyright laws," Tian said.

Tian reiterated the US move would not affect Chinese government's firm resolution in intellectual property rights protection and in its fight against piracy.

China's efforts in IPR protection is never something due to foreign pressure, but due to its own needs for development, for the construction of an innovation-oriented country.

The two new cases to be filed by the US represent the latest effort by the Bush administration to increase pressure on China in the trade area despite Beijing's active efforts in cracking down on piracy.
US Trade Representative Susan Schwab said the United States would file the two cases on Tuesday with the World Trade Organization, the Geneva-based organization that oversees trade disputes.
"China has taken numerous steps to improve its protection and enforcement of intellectual property rights (IPR), (but) we have not been able to agree on several important changes to China's legal regime that we believe are required by China's WTO commitments," she said.
One case will contend that Beijing's reported lax enforcement of copyright and trademark protections violates WTO rules, and the other will argue that Beijing has erected WTO-illegal barriers to the sale of US-produced movies, music and books in China.
The action marked the latest move against China on the part of the Bush administration, which is trying to deal with rising political anger over soaring US trade deficits.
The trade cases exposed a split in the business community: The film, music and book publishing industries supported the move while some other industries were concerned over whether the aggressive approach to China could result in retribution.
In her news conference, Schwab acknowledged that different industries favor different approaches. She noted that the software industry scored a big victory last year when China agreed to sell all computers with operating software.
"Where we are making progress, there is no need to litigate," Schwab said.

| | | |
| --- | --- | --- |
| 1 | 2 | |