A 24-year-old male Chinese, determined to become a woman, got financial support Sunday from South Korean transsexual entertainer Ha Ri-su to finance his gender alteration surgery, Qilu Evening News reported Monday.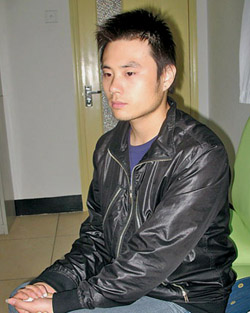 Zhang Lei speaks to media in Jinan, April 1, 2007. [qlwb.com.cn]
Zhang Lei, a native of northeast China's Jilin Province, has reportedly been suffering from a gender identity disorder since he was very young. He was born with the Hypospadias disease, which annoyed him of being a boy.
Zhang grew up playing girls' games with three elder sisters living nearby in his home village while his father labored in the city all year long.
He felt himself like a girl in school, playing around with girls, but got derided by boys as a girly man. He wished to have a girlfriend as other boys did, but "didn't know whom to turn to" and "just couldn't talk about love with girls," he said, weeping.
In the photo studio where he works, Zhang likes being dressed up by female colleagues into a beautiful woman, which he said is the happiest moment in life.
All these contributed to his determination to put an end to the struggle.
In 2005, Zhang told his parents about his transsexual plan, to his father's fury and his mom's tears.
"I'd rather die than live like this," he said.
In addition to the objections from his parents, money is also preventing Zhang Lei from realizing his dreams.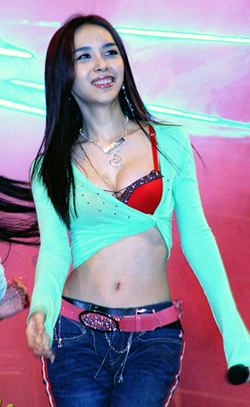 South Korean transsexual Ha Ri-su (file).
A plastic surgery hospital in Jinan, Shandong Province, has agreed to offer a 100,000 yuan deduction in fees. But still, the dresser couldn't afford the nearly 100,000 yuan left.
Fortunately for Zhang, Ha Ri-su came to his rescue. The South Korean, knowing Zhang's plight, flew to Jinan in person on Sunday and gave him 80,000 yuan.
When Zhang Lei phoned his family from Jinan on April 3, informing the date of the surgery, his father cried so heavily that he couldn't even talk.
But the old man finally decided to respect his son's decision. Last week, Zhang Lei went home and got a signed approval from his parents, which is a must in China, to change his sex.
The first phase of the operation falls on a day in the middle of this month. Ha Ri-su encouraged Zhang to live with confidence, and wished him to become a charming lady.
Transsexuals came into the attention of the public only in recent years, but the news has been eruptible. Data showed that in China, a country where people traditionally don't openly talk about sex, roughly 400,000 people, most of them men, have demanded to change into the opposite sex, among whom more than 1,000 have taken action.
The most prestigious transsexual in China is probably Jin Xing, a dancer, who dreamed of being a woman since six years old but undertook the surgery at 28. Jin later married a German and adopted three children. "I acted the biggest performance art in China, and my life is an art piece," she used to say.
Last weekend, Ji Mi, a known Chinese dresser for celebrities, centered in a TV talk show, flaunting his plan to change himself into a woman, which was allegedly a dream of him for long.
South Korean singer and actress Ha Ri-su, after successful transsexual surgeries, rose to a top star in east Asia with her perfectly toned svelte figure, more feminine and attractive than many other women.