TAIPEI -- Wu Poh-hsiung was elected Saturday as head of Taiwan's main opposition Kuomintang, following former chairman Ma Ying-jeou's resignation over an indictment for corruption.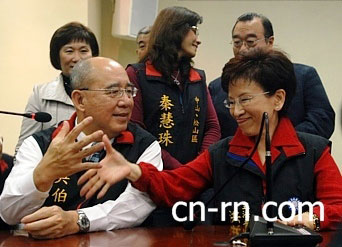 Taiwan's Kuomintang Party's new chairman, Wu Poh-hsiung (L), shook hands with his fellow candidate, female lawmaker Hung Hsiu-chu, after voting in the Kuomintang's election for a new leader on Saturday, April 7, 2007.[Photo: cn-rn.com]


Wu collected some 156,499 votes, or 90 percent of the ballots cast, while his opponent Hung Hsiu-chu took 23,447 votes, the party said. The voter turnout rate was 53 percent.

"There are so many things to be done. I feel no joy (from winning the election) but heavy pressure ... We have to stand united to save the KMT and save Taiwan," Wu said after declaring victory.

Wu served as the KMT's acting chief when Ma stepped down as chairman in February after being indicted for embezzlement, but resigned from the post to enter the by-election.

The 67-year-old served as Taipei mayor during 1988-1990 when the KMT was the ruling party.

Saturday's by-election was low-key compared with the previous one in 2005 when Ma and "parliamentary speaker" Wang Jin-pyng campaigned heatedly in the KMT's first contested leadership race.

Ma, a former graft-buster who has been battling corruption claims since November, was indicted for allegedly misusing more than 11 million Taiwan dollars (333,330 US) in expense accounts as Taipei mayor.

Despite the claims, the 56-year-old has defiantly announced he will run for Taiwan top leader in 2008, a move that unexpectedly boosted his popularity.

Last year Ma admitted that one of his aides had swapped receipts in claiming his mayoral expenses for 2003-2006.

Ma has apologised for the "serious administrative flaws" but denied prior knowledge of the aide's actions or any attempt at embezzlement.

Ma was elected KMT chairman in July 2005 and oversaw the party's landslide victory in local government chief elections five months later.

Ma was elected Taipei mayor in 1998 and won re-election in 2002. His second and final term ended on December 15, 2006.



| | | |
| --- | --- | --- |
| 1 | 2 | |