BEIJING -- Chinese President Hu Jintao urged all Party members and military officers to spread and put into practice the Party's new theories after a recent visit to the sickbed of a naval academy professor.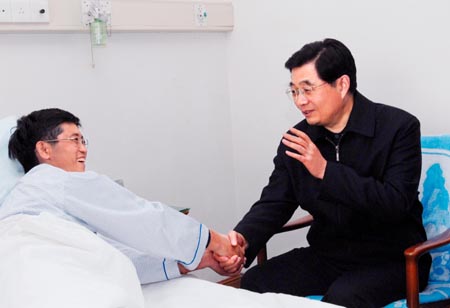 Chinese President Hu Jintao visits Fang Yonggang, a politics professor who is receiving cancer treatment at a hospital in Beijing, April 5, 2007. [Xinhua]


Hu, also general secretary of the Central Committee of the Communist Party of China (CPC) and chairman of China's Central Military Commission (CMC), visited Fang Yonggang in Beijing's General Military Hospital, where the widely-respected professor on politics from the Dalian Naval Academy, northeast China's Liaoning Province, received cancer treatment.
"You have long been engaged in education and research of political theories and gained outstanding achievements in spreading the Party's new theories," Hu praised Fang during his visit.
"You not only have a firm faith in the Party's theories, but also put them into practice in your daily work," Hu said.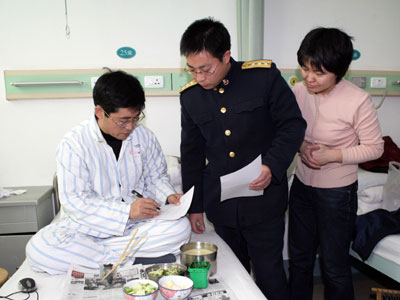 Fang Yonggang signs on a research paper by a student in his ward in this photo taken January 30, 2007. [Xinhua]
He called on all Party members and servicemen to learn from Fang's deep understanding of politics and lofty ethics in education and asked the doctors to do their utmost to treat Fang.
Fang, 44, began to teach in the Dalian Naval Academy in 1985 after graduating from the Shanghai-based Fudan University the same year.
In the following two decades, Fang kept studying and spreading the Party's theories in class, published 16 related works and more than 100 papers, and delivered numerous lectures in factories, residential quarters, schools, military barracks and the countryside.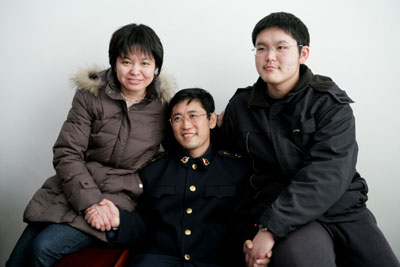 Fang Yonggang poses for a photo with his family in this photo taken January 29, 2007. [Xinhua]