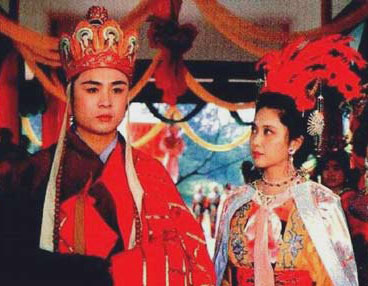 A video grab of the TV series "Journey to the West" adapted from a cognominal novel shows the queen of the Kingdom of Women and San-tsang monk. (file)


The Kingdom of Women, which San-tsang monk and his prentices passed through on their way to the Heaven as depicted in the Journey to the West, will become reality in a mountainous town in southwest China.
A local tourism official announced Tuesday the town of Tongqiao in southwest China's Chongqing Municipality has commenced a massive renovation scheme of building the region into a "town of women" in an effort to attract tourists, highlighting feminist lifestyle and matriarchy.
On one occasion in the mythic novel, the queen of the all-women kingdom who fell in love with the monk refused to stamp a visa on his passport document to let them through, however, men who wish to develop a romance in Tongqiao might be disappointed, as all that men can do is to obey any of women's instructions, and are not supposed to complain or appeal in the "kingdom" of female's sovereignty.
In the remote and underdevelped town, a majority of men labor in nearby cities to make a living for the whole year, leaving women at home, which becomes advantageous to build a women themeland.
As one of the tourist attractions, there will establish a "court" with a female "judge" and "tipstaffs", whose duties are only to punish men who dare defy women's authority. In fact nearly every male visitor to the town will be whipped, though the whip is very soft, as a reminder for treating their wives better, according to the scheme.
All these tricky "rules" are made to entertain visitors. Tong Jiuying, the future director of the women's kingdom, said she hoped tourists would have fun playing the game of feminism.