Chinese Premier Wen Jiabao on Wednesday said he expected his Japan visit next week to be a success, but said that he hoped there would be no further visits to the Yasukuni shrine by Japanese leaders.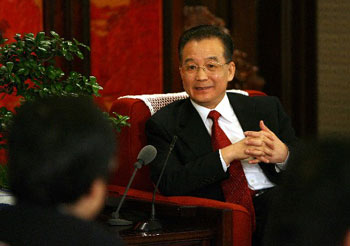 Chinese Premier Wen Jiabao gives an interview to 16 Japanese news organizations in Beijing prior to his upcoming visit to Japan, April 4, 2007. [Xinhua]
"I hope to make the visit a success, and really 'melt the ice' in China-Japan relations," Wen said in a joint interview with journalists from 16 Japanese news organizations.
The interview came ahead of Wen's Japan tour slated for April 11-13, the first to Japan by a Chinese premier in seven years.
The premier, however, warned against Japanese leaders' visits to Yasukuni shrine, which has been a key source of tension between China and Japan.
"The shrine visits by individual Japanese leaders over the pastfew years deeply hurt the feelings of the Chinese people and seriously undermined China-Japan ties," Wen said. "I hope this will never happen again."
High-level visits between the two countries were suspended for years because of former Japanese Prime Minister Junichiro Koizumi's repeated visits to the shrine honoring 14 class-A WWII criminals.
Wen said China and Japan will draft a joint document during his visit.

"The joint document will spell out the two countries' aspirations to build a strategic, mutually beneficial relationship, and the meaning and major tasks involved in this relationship," Wen said.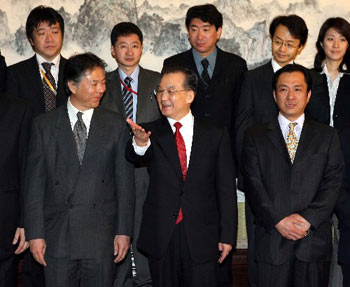 Chinese Premier Wen Jiabao has a group photo taken with Japanese journalists in Beijing, April 4, 2007. Premier Wen gave an interview to 16 Japanese news organizations in Beijing, prior to his upcoming visit to Japan. [Xinhua]
"This is a significant event, ushering in a new era of China-Japan relations."
This relationship should be based on the principles of enhancing mutual trust, honoring commitments, seeking common ground and respecting differences, Wen said.
Wen also proposed China and Japan look to the future, increase exchanges and consultations and cope with challenges.
Also on Wednesday, Abe said at his official residence he expected Japan and China to develop strategic, mutually beneficial relations.
"Wen's and Abe's remarks indicate that the two governments have a very similar agenda," said Jin Xide, a research fellow on Japanese studies at the China Academy of Social Sciences.
"However, since the political foundation, public sentiments and opinions on China-Japan relations are relatively fragile, it will be a long and difficult process to build this relationship," Jin said.
Wen's visit comes at a time when China-Japan ties are improving, boosted by Japanese Prime Minister Shinzo Abe's ice-breaking China visit last October.
China appreciated the fact that Abe had chosen China as his first overseas destination when he took office as prime minister last September, Wen said.
"During my tour, I will invite Abe to visit China this year," Wen added.
Wen's visit also coincided with the 35th anniversary of the normalization of China-Japan relations and the Year of Cultural and Sports Exchanges.
China-Japan trade volume has increased by nearly 200 times from 1.1 billion US dollars in 1972 to 207.4 billion US dollars in 2006.
The premier disclosed that he and Abe will co-chair a meeting in Tokyo to launch the high-level economic dialogue mechanism between China and Japan.
Wen also said that President Hu Jintao would visit Japan at a "convenient time" for both sides.
Wen said he was optimistic about the possibilities of finding solutions to the East China Sea issue concerning gas field development.
"The two countries have agreed to put disputes aside and jointly develop the area," he said.
China and Japan held the latest round of talks on the East China Sea in Tokyo last week, which Wen said were "positive consultations."
"We believe the issue can be resolved by peaceful means as long as we continue to work together and have more negotiations," Wen said.
On regional issues, Wen touched on the six-party talks on the Korean Peninsula nuclear issue.
The premier said the six-party talks "will not come to a halt" and pledged China would continue to promote the process.
China understands and sympathizes with Japan's position on the abduction issue and is willing to help resolve it, Wen said in the interview.
The interview took place in Zhongnanhai in downtown Beijing where China's top leaders work and live.
The interview also touched on trade and military exchanges between the two countries.
During Wen's stay in Tokyo, Wen is expected to hold talks with Abe and meet with Emperor Akihito. He is scheduled to deliver a speech in the Japanese parliament.
The three-day tour will also take Wen to the ancient capital of Kyoto, where he will visit a university.
Wen will visit the Republic of Korea before landing in Japan.