A Chinese Web site will launch Thursday what its producer describes as the country's first show to focus on gay issues and the first with an openly homosexual host.
The weekly, hourlong Internet TV show "Tongxing Xianglian," or "Connecting Homosexuals," will debut Thursday on www.phoenixtv.com, producer Gang Gang said in a phone interview.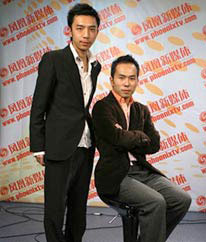 Host Didier Zheng (left) and producer Gang Gang of the new Chinese gay-themed show "Tongxing Xianglian" [AP]

The Web site is run by the same media company that runs the Phoenix satellite TV station. Gang said clips from the online show will be aired on the broadcaster.

Gang said while homosexuals have appeared on Chinese TV shows, this will be the first show to focus on gay issues and the first with an openly gay host, AIDS activist Didier Zheng.

He said he hopes the Beijing-based show will improve public understanding of Chinese homosexuals.

"There are many people in China's gay community, but people don't have a deep enough understanding about this community. This community faces a lot of trouble and difficulties. They face a lot of pressure," Gang said.

The new show will explore homosexuality from legal, parental and sociological perspectives, dealing with issues like gay marriage, Gang said. The program will also feature a friend-matching portion.

The show's host, Zheng, 27, is a France-educated activist at the Chi Heng Foundation, which works with AIDS orphans and promotes AIDS prevention.

"I hope to convey my love in caring for gays, my hopes for them to get better recognition in society," said Zheng, a Chinese citizen who pursued graduate studies in psychology at the Sorbonne.

Gang said he believes gays in China face less discrimination than in the West, where criticism of homosexuals stems from Christian beliefs.

"The pressure comes more from the Chinese problem of saving face," he said.