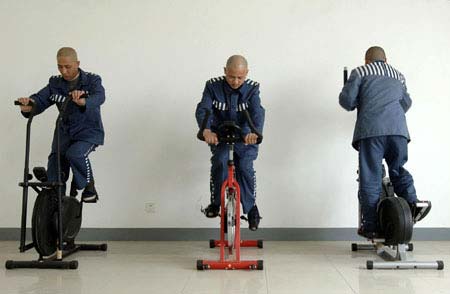 Prison inmates exercise at the Baihu prison in Chaohu, east China's Anhui province March 27, 2007. [Reuters]





A top official on Wednesday, March 28 reminded a prison conference of the oft-forgotten twin of punishment - rehabilitation.

Minister of Justice Wu Aiying called for more counseling for prisoners.

"Prisons should offer inmates psychological programs to help their rehabilitation," the minister told the National Prison Work Conference.

Prisons in the country started offering inmates psychological services in 1989, but the practice had not been widely followed till recent years.

Ministry figures show that prisons across the country offered 2.7 million counseling sessions to inmates last year. All prisoners received a psychological evaluation on first entering jail, and were also offered individualized consultations based on the evaluation.

Psychological programs can help prisoners maintain good mental health, and prevent them from turning to crime again, said Gao Zebo, a senior official from the ministry's prison administrative bureau.

"Inmates with psychological help often have a better chance at rehabilitation," he said.

He added that offering prisoners help also helps maintain order, and reduces quarrels and fights in the prison.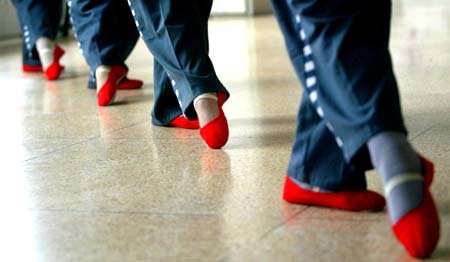 Female prisoners learn to dance at a prison in East China's Zhejiang Province in this March 29, 2005 file photo. [newsphoto]


Gou Zhixian, deputy director of Beijing's Dongcheng District Jail, said inmates receive psychological evaluation at least once a month. And the guards are also evaluated regularly and taught criminal psychology.

Yang Huaiyin, a guard, said his colleagues - each of whom supervises about 30 inmates - often feel pressure caused by fear that the prisoners might hurt themselves or fight. "We would be fired if any of them commits suicide," he said.

China has about 280,000 police officers working in jail, 85 percent of them college graduates. Each has a month of specialized training every three years, according to the ministry.

In addition, figures released yesterday show that 95.15 percent of the country's 1.5 million inmates received vocational training last year, of which 65.82 percent were awarded certificates.

Additionally, more than 180,000 prisoners secured higher education diplomas last year.

Chinese prisons had 3,785 libraries with more than 8 million books, 1,587 multi-media classrooms, 1,257 amateur performance troupes and 63,695 sports teams at the end of last year.