Four-yuan Scheme
What can a part-time Chinese employee of McDonald's afford by his hourly pay?
Only two small ice creams, which are valued at four yuan (US50cents).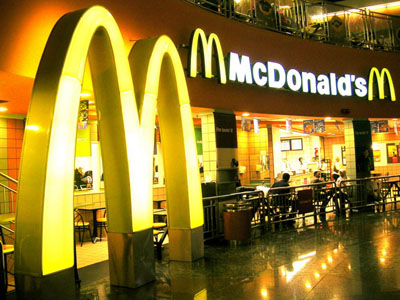 A McDonald's outlet. [File]
American fast-food giants McDonald's and Kentucky Fried Chicken (KFC) are being bombarded for their work contracts which offer their part-time Chinese employees just four yuan per hour, well under the state requirement, state media reported.
An employee is entitled to no less than 4.3 yuan per work hour, said a rule released by the Guangzhou city government last November. The hourly pay averages 7.5 yuan in the city.
An unnamed source in Guangzhou told the New Express newspaper that the contract violated the legal rights of employees.
"Once administrative departments discover acts of violations, officials will order these enterprises to revamp and compensate the employers for their losses," the source told the Guangzhou-based paper.
"If the problem is so grave that a punishment will be handed out," the source said without giving details.
The source also cast doubts on the probation system implemented by the fast-food giants.
"Part-time employees don't need to undergo a one-month probation period."
McDonald's and KFC have nearly 3,000 outlets all over China and a work force of nearly 200,000, according to a state media report.
Zhu Yongping, a Guangzhou lawyer, has begun to move for the rights of employees.
He told the paper that the work contracts have 'seriously violated' the legal rights of employees.
A Lin, a McDonald's employee in Guangzhou, regarded McDonald's as a respectable foreign-funded enterprise before starting to work there. But the working experience has changed her mind.
"I don't have enough rest. It seems that I was overly exploited."
Cui Minghuan, Manager of KFC'S Guangdong market, refuted the claims of rights violations, saying the current rule of the minimum hourly rates of pay for the non-full-time employees implemented in the province is not applicable to the part-time employees working for KFC.
"KFC does not breach relevant laws in China."
Cui said these part-time employees are neither full-time workers nor non-full-time workers. "Their hourly rates of pay cannot be measured by the rule.
An unnamed offical with the Provincial Department of Labor and Social Security said Cui's words are ridiculous.
"So what kinds of workers they are on earth? "
The official said the rule is applied to these part-time employees.
Mcdonald said in a written statement that "it is always committed to relevant laws and regulations in China."
Central Government Actions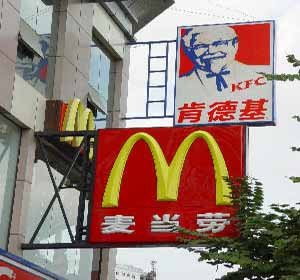 The report came just days after Chinese Premier Wen Jiabao, in his work report to the congress in early March, called for more efforts to implement the minimum hourly wage system in a bid to protect the workers' rights.
The minimum wage system aims to protect the rights of Chinese employees. For example, Bejing has set a minimum wage about 550 yuan per month, while the economic hub Shanghai has a minimum wage about 650 yuan.
The central government has beefed up efforts to protect the rights of its huge crowd of employees to quell any likelihood of unrest and maintain social stability.
China is planning to adopt an unemployment law that aims to build an unemployment benefit system.
The draft law is aiming at promoting employment around the country. The law states that the government will implement new policies, such as boosting professional training and increasing financial investment in employment promotion.
As discrimination turns rife in China, the draft law contains a clause on anti-discrimination in an effort to provide employment equality in the country.
The clause states that discrimination against job seekers with respect to their background, ethnicity, gender, religious beliefs, age, or physical disability, will be prohibited.
The government is also taking actions to set up trade unions in foreign-funded enterprises in China.
Up to date, about 26 percent of China's 150,000 overseas-funded enterprises have established trade unions, with a total membership of 4.29 million, previous media report said.
However, McDonald's and KFC have not set up unions so far.