BEIJING -- The construction of 21-km-long concrete and marble dragon along the ridge of a mountain near a national forest in central China's Henan Province is drawing the controversy in the country.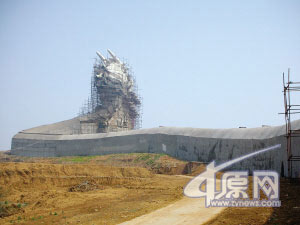 Construction on the 29.9-meter-high head and 800-meter-long body of a 21-km-long dragon has been completed in central China's Henan Provincen. The dragon is expected to cost 300 million yuan . [zynews.com]


Zulong Company has completed construction on the dragon's 29.9-meter-high head and 800 meters of its body at a cost of more than 30 million yuan. The final cost is expected to be ten times that amount.
Company president Li Shumin said the huge project will be completed in 2009 in time to celebrate the 60 anniversary of the founding of the People's Republic of China.
Critics of the project say it is a waste of money and will damage the local environment, while supporters say it will attract paying visitors and create jobs for local people.
An on-line survey by a leading Chinese website shows more than 90 percent of respondents disapproved of the dragon which is said to be the longest in the country if not the world.
A Henan newspaper quoted an official with Xinzheng City as saying that the dragon is a business project and has nothing to do with the government.
Yet the dragon snakes its way along the top of a ridge of Shizhu Mountain, which was designated as a national forest park in 2005.
Along with its mammoth head and impressive, twisty-turny length, the dragon will form a wall nine meters high and six meters wide along the backbone of the ridge.
Some 5.6 million pieces of white marble and gilded bronze are to form the dragon's scales which are supposed to be "symbolic of the country's 56 ethnic groups". Display rooms offering themes of filial piety and patriotism are to be set up in the dragon's hollow body.
For a fee, people will be able to have their names and messages inscribed on the scales, and companies can advertise the dragon's head.
The project was first launched in 2002 by a returned overseas Chinese but stalled after running short of funds.
Zulong Company was founded in October 2005 with a registered capital of one million yuan. (US$ = 7.7343 yuan)
| | | |
| --- | --- | --- |
| 1 | 2 | |