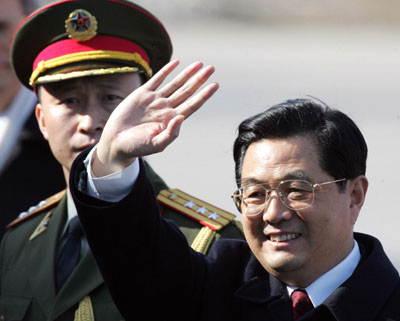 China's President Hu Jintao (R) waves after his arrival at the Vnukovo II airport in Moscow March 26, 2007. [Reuters]


MOSCOW -- Chinese President Hu Jintao arrived in Moscow on Monday for a three-day state visit, during which he will attend events marking "the Year of China in Russia."
During his visit, Hu is expected to meet with his Russian counterpart, Vladimir Putin, and other Russian leaders, to exchange views on the further development of the Sino-Russian strategic partnership of cooperation, according to a Chinese Foreign Ministry official.
They will also discuss important regional and world issues, the official said.
On Monday evening, Hu will attend the opening ceremony of "the Year of China in Russia," which is aimed at deepening friendship, enhancing cooperation and promoting the China-Russia strategic partnership.
Chinese and Russian leaders agreed to stage "the Year of China in Russia" this year during President Hu's visit to Russia in July 2005. "The Year of Russia in China" was marked last year.
Hu will also visit a Chinese national exhibition, one of the 200 events planned throughout "the Year of China in Russia."
The exhibition will be the biggest comprehensive show China has held outside the country in almost three decades, Yu Guangzhou, vice minister of commerce, told a news conference in Moscow last month.
China-Russia relations maintained a good momentum for vigorous development over the past year, marked by frequent exchanges of high-level visits and effective functioning of various consultation and cooperation mechanisms between the two neighbors.
Russia is now China's eighth-largest trading partner, while China is Russia's fourth-largest. The volume of China-Russia trade reached a record high of US$33.4 billion in 2006, up 15 percent over the previous year.