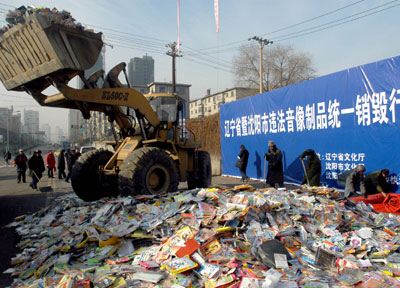 Pirated disks are destroyed in Shenyang, Northeast China's Liaoning Province in this file photo. China is doing a better job fighting piracy, a U.S. business leader said on Wednesday. [newsphoto]
WASHINGTON - China is doing a better job fighting piracy and could announce new initiatives early next week when it hosts a global conference on protecting intellectual property rights, a U.S. business leader said on Wednesday.
"I do think the Chinese are going to want to put a strong face forward. ... I wouldn't be surprised by new commitments to achieve their obligations under the WTO," Thomas Donohue, president of the U.S. Chamber of Commerce, told reporters before a trip to China for the meeting.
The U.S. Chamber of Commerce is co-sponsoring the March 27-28 event in Beijing with the China Council for the Promotion of International Trade, Donohue said.
Several Chinese officials are scheduled to speak at the meeting and the final list could include Chinese Premier Wen Jiabao or another senior leader, a chamber official said.
U.S. music, movie and book publishers estimate they lose billions of dollars of sales annually in China because of piracy. Other American companies are also hurt by Chinese sales of counterfeit goods ranging from auto parts to drugs.
Worldwide losses from counterfeiting and piracy are estimated at $750 billion annually, Donohue said.
Many members of Congress have called for the U.S. Trade Representative's Office to file a complaint against China for piracy at the World Trade Organization.
Donohue said he opposed that move as long as China was making progress on the issue. While Beijing clearly needs to do much more, "there seems to be a commitment (from senior Chinese leaders) to cleaning this up," Donohue said.
The Bush administration and the U.S. Chamber of Commerce have urged China to toughen its anti-piracy and counterfeiting enforcement efforts by lowering its threshold for filing criminal charges in order to put more violators in jails.
Donohue stopped short of predicting an announcement on that front next week, but said, "I believe you're going to be seeing the (Chinese) courts being more aggressive on enforcement and punishment for people that in a major way, and intentionally and maliciously, violate their law and the WTO system."
Donohue said the chamber opposed a pair of bills under consideration in Congress that would require the U.S. Commerce Department to impose countervailing duties on goods from non-market economies like China.
Donohue said he was worried the legislation, while well-intentioned, would run afoul of WTO rules.