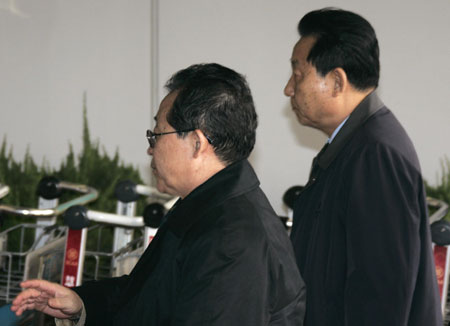 North Korean nuclear envoy Kim Kye-gwan (L) waves as he leaves from Beijing airport March 22, 2007. Talks on North Korea's nuclear programme ground to a halt in Beijing on Thursday, with the North Korean and Russian envoys both leaving for the airport after four days of negotiations went nowhere. [Reuters]


Bank of China (BOC) has concerns about accepting the transfer of frozen funds from the accounts of the Democratic People's Republic of Korea (DPRK) now being held at a Macao-based bank, according to Chinese nuclear envoy Wu Dawei.

The latest round of the Six-Party Talks on denuclearizing Korean Peninsula has recessed, Wu announced yesterday, after four days of talks in which Pyongyang's top negotiator Kim Kye-gwan boycotted multilateral discussions.

The DPRK insisted that receiving the $25 million frozen at Banco Delta Asia (BDA) was a prerequisite for returning to the meetings.

Wu said all the parties are seeking a solution to the issue and the key is who should be responsible for handling the funds transferred from BDA.

"China has a socialist market economy system and we need to consult with Bank of China on whether or not it can fulfil this responsibility," Wu told a news conference yesterday. "This is a matter that cannot be decided by the government."

He said he appreciated BOC's earnest consideration in resolving the issue, saying it was the only financial institution that has been seriously exchanging views with all the relevant parties.

Describing BOC as "very courageous," Wu said not all their concerns have been assuaged.

He noted that the banking issue would not be an obstacle to the nuclear talks, saying all the parties believe that they are confident and capable of resolving the problem in a way acceptable to all.

Meanwhile, BOC Chairman Xiao Gang said his bank has not been required by the government to accept the transfer.

"As a listed company, Bank of China will strictly comply with laws, regulations and international conventions on anti-money laundering and anti-terrorism," Xiao said at a press conference in Hong Kong yesterday.

The US and the DPRK reached a deal on Monday to settle the financial dispute by transferring Pyongyang's frozen accounts from BDA to BOC in Beijing with the money promised to be used for the betterment of its people.

The optimism faded as Pyongyang refused to take part in the nuclear talks the next day until the money was returned.

The money was frozen in late 2005 after the United States declared the financial institution a primary money laundering concern.

Washington last week prohibited US financial institutions from dealing with BDA and barred the bank from accessing the US financial system either directly or indirectly.

| | | |
| --- | --- | --- |
| 1 | 2 | |