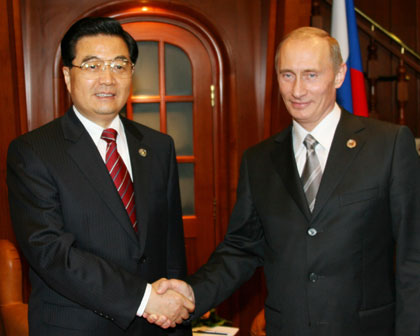 Russian President Vladimir Putin shakes hands with Chinese President Hu Jintao during a bilateral meeting at the sideline of the G8 summit in St. Petersburg July 17, 2006. [Reuters]


BEIJING -- China and Russia are expected to sign a series of agreements and contracts worth more than US$4.3 billion during Chinese President Hu Jintao's coming visit to Russia, according to the Chinese Foreign Ministry.

Assistant Foreign Minister Li Hui Wednesday briefed Chinese and foreign journalists on Hu's Russian tour scheduled for March 26 to28.

Li said the two countries will sign a series of cooperation agreements and the enterprises of the two countries will hold talks at a China national exhibition.

President Hu and his Russian counterpart Vladimir Putin will attend the opening ceremony of the Year of China in Russia and that of the China national exhibition.

The China national exhibition will be the biggest ever such exhibition sponsored by China in a foreign country, Li said.

He said some 200 enterprises and organizations from around China, including the Hong Kong and Macao special administrative regions, will attend the exhibition, with more than 15,000 kinds of products on show.

The Year of China in Russia is a reciprocal event to the Year of Russia marked in China last year. Both events were agreed upon during President Hu's visit to Russia in July 2005.

The Year of China in Russia will stage some 200 activities to enhance exchanges and understanding between the two countries in various areas.

Hu meets Russian journalists before visit

President Hu met with the journalists from Russian media Tuesday in advance of his Russia visit starting on March 26.

President Hu will pay a state visit to Russia and attend the opening ceremony of the Year of China from March 26 to 28, according to Chinese Foreign Ministry.

Hu briefed the Russian media on China-Russia relations, "National Year" activities, trade cooperation, media exchange, construction of harmonious society in China, Beijing Olympics, China's economic development and the Shanghai Cooperation Organization (SCO).