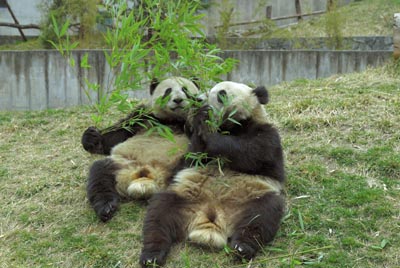 Giant pandas No.606 (R), male, and No. 610, female feed themselves on bamboo leaves at the Panda Protection and Research Center in Wolong, southwest China's Sichuan Province Tuesday, March 20, 2007. They will be sent to Hong Kong before May 1 this year. [newsphoto]


BEIJING -- The Chinese central government announced Tuesday that a pair of pandas for Hong Kong has been selected and will be sent to the special administrative region before May 1st.

The pandas are leaving in time for the 10th anniversary of the Special Administrative Region of Hong Kong, said Cao Qingyao, spokesman with the State Forestry Administration (SFA).

Both pandas were born in August 2005 at the China Panda Protection and Research Center in Wolong, Sichuan Province. The male young panda presently identified as No. 606 weighs 60 kilograms and the female, No. 610, 61 kilograms.

They will not be named until the Hong Kong SAR government holds an open competition to invite the public to suggest names for the new pair of giant pandas.

The competition can be seen as Hong Kong people's welcome gesture and their love towards the "national treasures", said Chief Secretary for Administration of Hong Kong SAR Rafael Hui.

"I am particularly glad to learn that the new pair of giant pandas meets all the requirements put forward by Hong Kong," Hui said, adding that he believed the new pandas would be able to fulfill their mission of building a happy family in Hong Kong.

Last September Chief Executive of the Hong Kong SAR Donald Tsang asked the central government to send another pair of healthy, lively and fertile giant pandas. The request was approved in October.

Cao said that the SFA sent an expert team to Shaanxi and Sichuan provinces in January 2007. The experts selected the two pandas out of 15 candidates after rigorous physical examinations on their weight, height, teeth, heart rate, breath, body temperature, blood and organs.

"The selected pandas are well-mannered, lively, mentally healthy and easy going," said Feng Zuojian, a researcher with Chinese Academy of Sciences (CAS) who took part in the examinations.

"To ensure their offspring are of fine breed, they should not be near kin." he added.

Another expert Zhang Hemin, director of the China Panda Protection Research Center, said that the chosen pair looks fertile.

"The male panda has short mouth and sleek fur," said Zhang, "the female looks shy, sensitive and well-set. They seemed attracted by each other at first sight and would not be apart." he added.

After adapting to their new living environment in Ocean Park, the new giant pandas are expected to meet the Hong Kong public from July 1, 2007.

In a visit to China Panda Protection and Research Center in Wolong earlier this month, Chief Secretary for Administration Rafael Hui said that it is an exceptional case for the central government to give an extra pair to Hong Kong, noting that the rare giant pandas are one of China's national treasures.

The Central Government of China presented the first pair of pandas, "An An" and "Jia Jia," to Hong Kong in 1999 as a gift to the HKSAR and inhabited them at Ocean Park.

By December 2006, China has bred 217 pandas at its research centers and zoos in Beijing, Sichuan and Shaanxi.