President Hu Jintao yesterday vowed to have more strategic dialogues and deepen political trust with France to take the comprehensive strategic partnership between the two countries to new heights.

At his meeting with visiting French Defense Minister Michele Alliot-Marie, Hu said China valued its military relations with France and appreciated its adherence to the one-China policy.

China and France are important and influential countries and have similar or identical views on some major international issues, Hu said. They share extensive common interests and shoulder common responsibilities.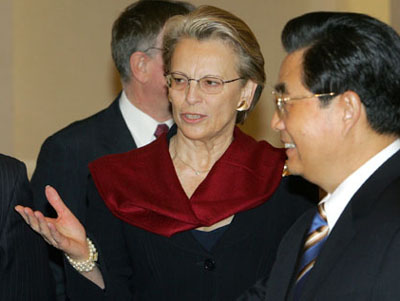 French Defense Minister Michele Alliot-Marie introduces members of her delegation to Chinese President Hu Jintao in Beijing March 19, 2007. [Reuters]
China will work with France to earnestly honor the cooperative agreements signed and the consensus reached by the leaders of the two countries, said Hu.
Alliot-Marie said she wanted the ban on arms exports to China to be lifted. Continued arms embargo to China will harm the European Union's relations with China, and hence it should be lifted as soon as possible, she said.
"The EU arms embargo on China can no longer be justified and should be lifted," Alliot-Marie told a news conference yesterday. This doesn't mean France wants to start selling weapons to China.
"It's illogical to keep the arms embargo, and at the same time authorize China to host the 2008 Olympic Games," she said. The criteria to host the Olympics are the same as those required to lift the embargo.
"Lifting the embargo, that is my position and I've said it again and again, in Tokyo, in Washington, and here again in Beijing," she said.
Authorizing China to host the Olympic Games means acknowledging its progress in economic development and democracy, she said. "The arms embargo has no technical justification and any political justification for the embargo is just baseless."
"That France insists the outdated embargo be lifted does not mean it wants to sell new weapons to China. It's just a question of principle," said Alliot-Marie, who has been to Tokyo and Seoul on her ongoing Asian tour.
She has invited China to help European governments train and equip an African peacekeeping force. The force, she said, is meant to respond to intra-ethnic and intra-community violence.
"We are beginning to open this to non-European countries, and since China is interested in Africa, I proposed that it consider being associated with such operations," Alliot-Marie said.
Chinese officials support African stability and prosperity, she said, but they haven't said whether they would accept the invitation.
On Sunday, Alliot-Marie held talks with her Chinese counterpart Cao Gangchuan, who briefed her on China's national defense policy and military construction. China follows peaceful development and will never pose a threat to another country, Cao told her.
Alliot-Marie later said: "We had open and fruitful discussions... which reflects the friendly relations between the two countries."
She has got an assurance that much of this year's 17.8 percent increase in China's military budget will go into improving the living conditions of the 2.3 million soldiers, she said.