Li Yan, a 28-year-old terminal cancer patient, has been in the spotlight lately after popular CCTV investigative news anchor woman Chai Jing posted a message from her, conveying Li's wish that the NPC (National People's Congress), which is convening for the annual session, considers a draft on peaceful death, or euthanasia.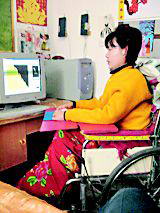 Li Yan, sitting in a wheelchair, uses the computer in her room. [Information Times]

Li, from north China's Ningxia Hui Autonomous Region, has been suffering motor neurone disease, known as a "super cancer", since she was an infant. Now 28, she has "lost motor function in her whole body" and is incapable of performing basic bodily functions unassisted. She can only slightly move her head and several of her fingers.

"My mother has been tending to me over the past 27 years, feeding me, carrying me to the toilet, and helping me turn around a dozen times during the night." said Li in her message left at Chai's personal blog, which was typed out through a chopstick held in her mouth.

Li said she believes she can live to 40, but she has fears. "I must die before my parents; otherwise I will live a miserable life after their pass-away -- dirty, stinking, and sick. The thought of such a life and death is unbearable." she wrote.

Li has been writing a blog named "No where to go", calling for the legislation of euthanasia. In one of her posts, Li wrote about an interview by a reporter from Ningxia Daily, who asked her whether she felt her wish for a peaceful death was irresponsible to her parents.

"I was stunned. I am irresponsible, but what should I do when both my parents turn 80 or leave me?" Li wrote. Instead, she told the reporter to try lying down in bed for 24 hours without moving. "People have the right to live, as well as the right to die." she said.

"I treasure life, but I don't want to live." Li wrote in her blog on August 19, 2006.

The eager for a peaceful death caused her to draft a motion for legalizing euthanasia. "I hope that a pro-euthanasia NPC delegate will propose for a draft on euthanasia law for me." she continued.

"Euthanasia will not only put an end to my pains, but also provide a way out for those suffering the same or more than me." Li wrote in her blog.

Legal experts, however, say the time is not ripe for the passage of such a motion on euthanasia, which may be abused to achieve other ends and cause chaos. But Li said she believes the legislation on euthanasia is a matter of time.

"As long as my computer works and my fingers can move, I will keep trying. If failing, I will kill myself through a hunger strike, the only way I can die." Li said in response to a question on what she would do if her efforts to push for the law come to nothing.

An editorial run on Eastday.com expressed sympathy for Li Yan's situation, but said a proposal by NPC or CPPCC representatives would be an "abuse of rights": "I deeply understand the pain that illness has brought to this 28 year-old woman. I also respect her right to express her innermost feelings. But this is merely sympathy, an involuntary sympathy. If we really have NPC representatives or CPPCC committee members making a proposal on euthanasia in China today, this is clearly an inopportune abuse of rights."