Backed by the central government, South China's Guangxi Zhuang Autonomous Region will transform its coastal cities into a single economic zone and speed up its cooperation with ASEAN member states.
"Located on the doorstep of Southeast Asia, Guangxi will become China's next growth engine," Li Jinzao, vice-chairman of the autonomous region, said yesterday on the sidelines of the ongoing session of the National People's Congress (NPC) in Beijing.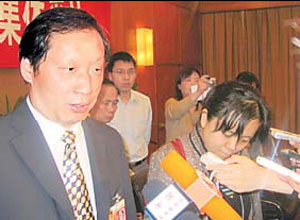 Li Jinzao answers questions from reporters yesterday in Beijing. Zhu Zhe
He said the economic zone covers six coastal cities along the Beibu Gulf in Guangxi, and a "Broad Beibu Gulf Area" also includes coastal areas in Vietnam, Malaysia and the Philippines.
"We aim to develop the zone into a base for harbor industries and for China-ASEAN cooperation in logistics, commerce and trade, as well as in information exchange," Li said, adding that an administrative committee had been set up to take charge of the planning and coordination.
But Li said the coastal city of Beihai would never promote gambling to boost tourism.
"If you want to sunbathe or see a beautiful beach, you are welcome at the Silver Beach in Beihai. But if you want to gamble, please go to Las Vegas," he said.
The strategy had received recognition and support from the central government, according to Li.
He said President Hu Jintao on Friday encouraged Guangxi to actively participate in multiregional cooperation such as the establishment of the China-ASEAN Free Trade Area, and the development of a "Broad Beibu Gulf Area".
Heavy industries like petrochemicals, paper pulp manufacturing, iron and steel production, and service industries like tourism and logistics are high on the area's development plan.
Yin Jianguo, director of the autonomous region's State Assets Supervision and Administration Commission, who is also in Beijing attending the NPC meeting, said yesterday that the National Development and Reform Commission had just approved a PetroChina oil-refining project with an annual capacity of 10 million tons in Qinzhou in Guangxi, costing about 15.3 billion yuan ($2 million).
He said the autonomous region was also applying for a similar project with Sinopec, but he was not sure whether the central government would approve it.
In addition, a 56 billion yuan ($7.18 billion) joint-venture iron and steel project between Wuhan Iron and Steel (Group) Corp and Liuzhou Iron and Steel Group would start soon in the coastal city of Fangchenggang, according to Yin.
In response to the question of whether Guangxi would join hands with Hong Kong in developing the economic zone, Li said they welcomed investment from Hong Kong and would encourage enterprises to make good use of the capital market in the special administrative region.
He said the zone had been heating up since the development strategy was released a few months ago, and many businessmen had approached the area about possible investment opportunities.
(China Daily 03/15/2007 page5)