The Party chief of East China's Jiangsu Province yesterday pledged to work toward a more people-oriented society on the eve of the all-important 17th National Congress of the Communist Party of China.
Jiangsu Party Secretary Li Yuanchao said his province is working on establishing a social system that would allow all of Jiangsu's residents to share in its economic and social achievements.
Speaking as the leader of one of the country's richest provinces, Li said Jiangsu is working to establish a more people-oriented society, in which economic concerns were balanced with social development, to welcome the convening of the 17th Party Congress.
The meeting is scheduled for October.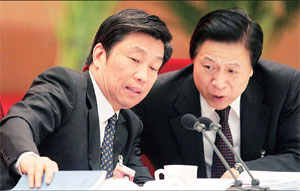 Li Yuanchao (left), Party secretary of the Jiangsu Committee of the Communist Party of China, talks with Liang Baohua, the provincial governor, at a meeting yesterday in Beijing. Xu Jingxing
"Although Jiangsu has developed fast in recent years, some of its people still haven't seen their lives improve," Li said on the sidelines of the 10th National People's Congress.
"Therefore, the whole province is pooling its economic and human resources to improve the well-being of the poor population."
Li told China Daily that the province's goal is to integrate its vast population of migrant workers into its social system.
Jiangsu, which is home to several key economic hubs, including Suzhou and Wuxi, hosts about 12 million migrant workers from outside the province.
Li said professional training is at the top of the list of three steps the province is taking to improve the lot of its migrant population.
"Only through professional training can migrant workers truly improve their competitiveness and then increase their incomes," Li said.
Provincial authorities last yar ordered all of Jiangsu's labor markets to organize regular free training classes for migrant workers. The province also set a goal to have all of its migrant workers trained at vocational training schools by 2011.
The effort seems to have paid off so far.
In the provincial capital Nanjing, about 20,000 migrant workers took part in training programs last year, and surveys by local labor bureaus showed that on average their salaries increased by about 20 percent after they completed the programs.
The second pillar of Jiangsu's effort to help migrant workers has been to guarantee their legal rights, which includes improving their living conditions and offering compulsory education to their children.
The province also covers migrant workers with its subsidized housing scheme and plans are being drawn up to grant migrant workers access to personal housing accumulation fund loans, a special housing loan usually offered only to urban workers.
And cities throughout the province have been offering nine-year compulsory education to the children of migrant workers since 2005.
"The children of migrant workers will also contribute to the development of the province and the country in the future. And they deserve equal opportunities in receiving education," Li said.
The provincial Party secretary said Jiangsu was also making efforts to integrate migrant workers into urban society and reduce their feelings of isolation.
"The influx of rural labor into the cities is a fairly general trend. What we can do is to help these people find places within urban society and take part in modern civilization," Li said.
One example of the province's efforts is on display in Kunshan, a manufacturing center that produces about one-third of all the laptops in the world. The city has started referring to its migrant population as "new Kunshan people".
One migrant worker in Kunshan, surnamed Chen, said he had noticed the difference.
"The change in the title actually reflects a change in society's attitude towards rural laborers. It makes us feel like we have a stake in the city, instead of making a clear cut boundary between us and the urban residents," he said.
(China Daily 03/15/2007 page5)