BELFAST, Northern Ireland - Anna Lo doesn't fit into the straitjacket of Northern Ireland politics. She's not a Protestant or a Catholic -- and her Belfast brogue comes with a Cantonese twist.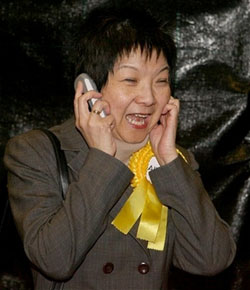 Alliance MLA Anna Lo celebrates at the Kings Hall in Belfast, after making history for the first person from an ethnic minority to be elected to Northern Ireland's Assembly Thursday, March 8, 2007. (AP Photo)


Lo, a Hong Kong native who has lived in Northern Ireland for 32 years, on Friday became the first ethnic minority to be elected to political office in this almost exclusively white British territory. Chinese media reports also described her as the first Chinese person to be elected as a lawmaker anywhere in Europe.
Lo was one of seven people elected to the 108-member Northern Ireland Assembly from the Alliance Party, which seeks to draw support from all sides of the community.
"I'm a Taoist, not a Christian, and I don't naturally belong to orange or green," she said, referring to the local color labels for British Protestant and Irish Catholic. "I'm really in the middle."
The Alliance Party, she said, "offers the alternative to tribal politics and people came out to vote for it."
Lo, the 56-year-old chief executive of the Chinese Welfare Association in Belfast, said many of the approximately 10,000 Cantonese-speaking residents of Northern Ireland have lived here for more than three decades ¡ª and had never voted before her candidacy.
During her 6-week election campaign, Lo went knocking doors throughout South Belfast. The area is home for Queen's University students, most of Belfast's smartest neighborhoods, and rough Protestant districts where racist attacks against immigrants -- particularly hospital workers from Africa and the Philippines -- have become common in recent years.
Police advised Lo to carry a panic alarm in case she suffered racial abuse. The worst she reported were verbal insults, some questioning her right to stand for office, and a far-right Web site that juxtaposed her picture with pornographic images.
She ended up finishing third in the six-seat South Belfast constituency, much better than analysts' forecasts.
"I really wouldn't want to be seen as an ethnic minority representative," she said. "But I do want to challenge the culture of segregation here, to promote the integration of schools and encourage everyone to respect each other."