"People can have a long-term life plan only if they know their private property is secure."
This teaching of fourth-century BC philosopher Mencius may get strengthened if the ongoing session of the National People's Congress (NPC) approves of a draft on property law. The paper was finally tabled for discussion at the NPC yesterday after a 14-year legislative marathon.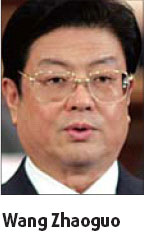 The proposed legislation is considered as important as the adoption of the statement, "a citizen's lawful private property is inviolable", in the constitutional provision in 2004, and, if passed, would mark the beginning of a new era in China with equal private and public property rights.
Explaining the law to legislators, NPC Standing Committee Vice-Chairman Wang Zhaoguo said that under the socialist market economy, everyone in the market should have equal status, enjoy the same rights, follow the same rules and shoulder the same responsibilities.
A property law to regulate the socialist market economy and safeguard the immediate interests of the people is a necessity in China today as its reform process deepens, he said.
The proposed law defines the attribution of things to avoid disputes, protects private property and improves the Chinese-style socialist property system. With specific stipulations on subjects like land use, housing and parking lots, it is expected to affect almost everyone.
In order to grant farmers long-term and guaranteed land-use right, the draft says a farmer can renew his contract after it expires.
Also, when urban house and land contracts expire, usually in 50 to 70 years, residents can get them renewed automatically, and compensation has to be paid for the expropriation of the land or house.
To prevent loss of State property, the draft says that any unit or individual that damages or destroys it by restructuring, merging or dividing an enterprise - or through an affiliated transaction - shall be held legally liable for the loss.
(China Daily 03/09/2007 page1)