Ninety-one percent of companies on the Chinese mainland have women holding senior management positions, ranking second in the world, after the Philippines, according to the results of a survey released yesterday.
The poll, conducted by Grant Thornton, an accounting firm based in Hong Kong, covered 32 economies.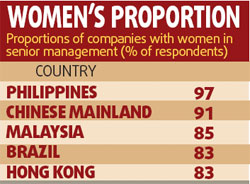 Hong Kong and Taiwan also rank high on the list, with 83 percent and 80 percent of their firms having women in senior positions.
In the Philippines, 97 percent companies have women holding senior positions.
"The findings suggest that China businesses focus on capability and performance when appointing senior management, and not on gender," said Alison Wong, partner of specialist advisory services at Grant Thornton.
On average 65 percent of the companies in the world have women in senior management positions, the survey shows. China is ahead of many Western countries, including the US, Canada and Britain.
"Despite some people's perception about traditional gender bias in Chinese society, it is positive to note that today three places across two shores achieve such a high proportion of business with senior females," Wong said.
Almost all Asian countries have more businesses with women at senior levels than the global average, except Japan, whose rate is only 25 percent.
"Obviously Japan is unique in the cultural perception about women in business and women's role in the family as compared with other parts of Asia, " Wong said.
The survey reflects an upward trend in the percentage of women in management roles in most economies, but only the Philippines has achieved true parity in male/female management.
"Hopefully we will see similar equality in other places in the coming years as more women play increasingly prominent roles in public life," Wong said, citing names such as Vice-Premier Wu Yi, and Zhang Yin, chairman of Nine Dragons Paper Holdings and the first woman to top the list of China's richest people with a fortune of $3.4 billion.
(China Daily 03/08/2007 page1)