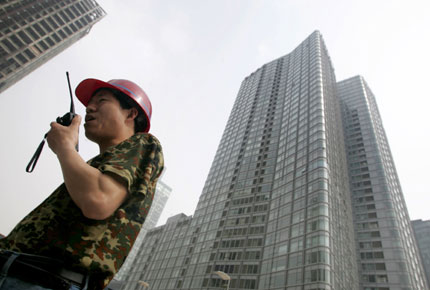 A worker uses a walkie-talkie at a construction site in China's capital Beijing May 18, 2006. [Reuters]


A spokesman for China's parliamentary session on Sunday slashed the view that the draft property rights law, to be deliberated for approval at the annual session of the National People's Congress (NPC), goes against the Constitution, stressing the law should give equal protection to public and private properties.
At a press conference ahead of the NPC's annual full session that will open on Monday, spokesman Jiang Enzhu said that under the socialist market economy, state, collective and private properties should be entitled to equal rights.
If various property rights were not protected equally, the initiative of legally creating and accumulating wealth by the masses of people would be harmed, and national strengthen and social harmony would also be impaired, Jiang said.
He said Chinese lawmakers will further improve the draft law during the upcoming NPC annual session.
The NPC Standing Committees has solicited more than 10,000 pieces of opinion from the public and held hundreds of discussion panels during the unprecedented seven-time deliberation by the NPC Standing Committee.
The draft property rights law had its first reading in China's legislature in 2002 as part of a draft civil code.