Two disgraced officials - Qiu Xiaohua and Zheng Xiaoyu have been dismissed as national political advisers before the top advisory body opens its annual full session on Saturday.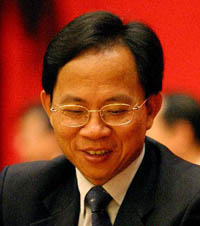 Qiu Xiaohua [file photo]

The Standing Committee of the National Committee of the Chinese People's Political Consultative Conference (CPPCC) made the decision yesterday.

Qiu, 49, former head of the National Bureau of Statistics, was removed from his post in October for alleged involvement in the 10 billion-yuan ($1.28 billion) Shanghai social security fund fraud.

He was expelled from the Communist Party of China (CPC) in January, and the central disciplinary watchdog accused him of "taking a large sum of bribes from enterprises, living a decadent life, and committing bigamy".

Zheng, 63, former State Food and Drug Administration (SFDA) chief, was removed from his post on June 22, 2005 after being accused of taking bribes during his eight years in office as the country's top drug watchdog.

Zheng was detained on December 22 last year.

In addition to Qiu and Zheng, Li Pinsan, former chairman of the Industry and Commerce Federation of Ningxia Hui Autonomous Region, was also expelled from the CPPCC National Committee yesterday for alleged illegal fund-raising.

The Standing Committee of the CPPCC National Committee also accepted the resignation of He Linxiang, former head of the Agricultural Development Bank of China because of discipline violations.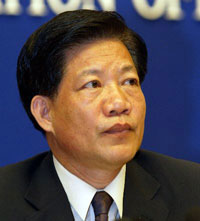 Zheng Xiaoyu [file photo]
Also yesterday, the National People's Congress (NPC), the top legislature, dismissed three members for alleged corruption and law violation.
Liu Weiming, 68, who was Guangdong vice-governor from 1988 to 1998 and vice-chairman of the provincial committee of the CPPCC from 1998 to 2003, is accused of using his power to make profits of up to 160 million yuan ($20.5 million) for his son.
Deng Zhonghua, 49, president of Chendian International Development Co in Central China's Hunan Province, is accused of taking and offering bribes of up to 1.5 million yuan ($192,000).
Li Yichao, chairman of Zhongtai Group in Luoyang, Central China's Henan Province, is accused of tax evasion of about 14 million yuan ($1.8 million).
Altogether more than 30 deputies and members of the country's top legislature and advisory body were ousted in the past four years.
(China Daily 03/01/2007 page1)