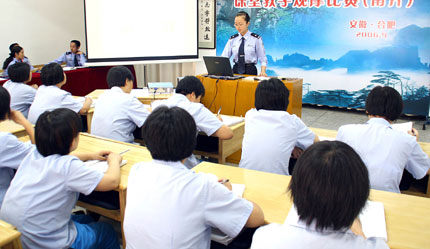 Minor offenders attend a legal knowledge lecture in a reeducation-through-labor institute for women in Hefei, Anhui Province in this September 21, 2006 photo. China is to reform the decades-old reeducation-through-labor system. [newsphoto]


China is taking a fresh look at abolishing the long-disputed re-education-through-labor system, or laojiao, by proposing a new law which is more lenient and protective of the legal rights of minor offenders.

According to the annual legislative plan released on Tuesday by the Standing Committee of the National People's Congress (NPC), the top legislature, the proposed law on correction of illegal acts is among the 20 draft laws or amendments to be discussed this year.

Listed in NPC's annual legislative plan since 2005, the draft law was put aside for two years because of disagreements, and the standing committee said there are still "lots of disagreements" this year.

Law experts have described the law as "a concrete step to protect human rights as endowed by the Constitution".

Laojiao, an administrative measure adopted in 1957, empowers the police to sentence a person guilty of such minor offenses as petty theft and prostitution, to a maximum of four years' incarceration.

Under the practice, a judicial review by a court can only take place after punishment is imposed.

Ying Songnian, a law expert and NPC deputy, said that flaws with laojiao lie in its implementation procedure because there is no strict legal boundary in deciding the length of detention.

Re-education-through-labor
Re-education-through-labor, or laojiao, is an administrative punishment imposed by the police.

The practice was adopted by the Standing Committee of the National People's Congress in 1957.

Initially a relatively mild suppression of counter-revolutionary activities, laojiao served as a useful way to punish dissent in 1958.

It was nearly phased out during the cultural revolution (1966-76), but expanded quickly as the country launched anti-crime campaigns beginning in 1983, and considered a good way to rehabilitate minor offenders.

It now serves multiple functions, including crime control, drug rehabilitation, and investigative detention.

Wang Gongyi, vice-director of the Institute of Justice Research affiliated to the Ministry of Justice, said that the current laojiao practice contradicts several items in the Constitution, the Criminal Procedure Law, and the International Covenant on Civil and Political Rights a United Nations human rights treaty China signed in 1998.

They all require that decisions to detain someone go through judicial system first.

According to Wang, a drafter of the law, the debate still centers on whether it takes an administrative procedure or a judicial one to detain minor offenders.

The Ministry of Public Security proposes to maintain the current practice, with a judicial review coming after the administrative enforcement.

But the Supreme People's Court favors the judicial procedure, which requires all detentions to be imposed only after a court's decision.

Some experts, including Wang, take the middle road. They propose to grant a defense right to all minor offenders before incarceration. Those who demand a review should not be incarcerated before a court's decision.

Despite the arguments, Wang said the new law is more correction-oriented and lenient.

According to it, the current "re-education centers" will be renamed as "correctional centers", with all bars and gates removed and made more school-like.

The incarceration period will also be shortened to less than 18 months, depending on the offense.

Figures from the justice ministry show that about 400,000 people have served their terms in 310 laojiao institutions.

Wang emphasized that the practice has contributed to the country's penal system for decades as it eases the burden imposed on the prison system.