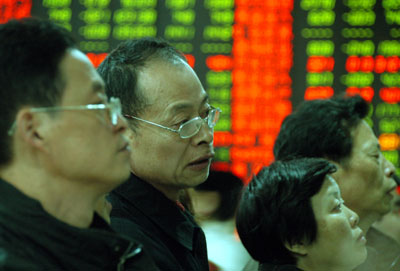 Investors look at stock information at a securities company in Shanghai February 27, 2007. [newsphoto]


Financial and tax officials Tuesday said no to capital gains tax speculations which were blamed for the Chinese equity market's biggest fall in a decade, a news report said Wednesday.
Special coverage:
Stock Market

Related readings:
Stocks nosedive after record high closeChina stocks end well off highs after new record
A HK-Shanghai market merger?
China stock index up 2.3 pct as banks recover
Boom and bust on the road to prosperity
Value of China's listed stocks shrinks by 7% in past week
Listed stocks shrink 7% in past week
Stocks continue slide
Lawmaker sees stock market bubble
The Ministry of Finance and the State Administration of Taxation said they have no plans to levy capital gains tax on retail stock investors, according to the Shanghai Securities News.

Recent market speculations have it that as the levy of certain taxes on real estate market to curb the speculative activities in the sectors has produced some positive outcomes, the government is likely to introduce similar measures into the stock market.

A rule released by the State Administration of Taxation at the end of last year added to the speculations. All those with an annual income of more than 120,000 yuan should report their earnings, including the gains from the equity market, according to the rule. This was seen as a prelude to capital gains tax.

However, a head of the news department of the State Administration of Taxation dismissed this as a misunderstanding.

"Reporting the earnings in stocks transfers and whether to levy tax on the earnings are two separate issues," the official was quoted as saying.

The country's personal income tax law stipulates a 20 per cent tax on earnings from stocks transactions. But the investors were relieved of the burden starting from 1994 as the government intended to facilitate the development of the equity market.

"There is no change in the attitude of the State Administration of Taxation," the official said.

A head of the news department of the Ministry of Finance also denied the speculation. He said no plan is underway for the collection of the capital gains tax and advised the investors not to believe the rumors.

Chinese stocks suffered the biggest fall in a decade Tuesday as a sharp sell-off hit the markets. The benchmark Shanghai Composite Index fell 268.81 points, or 8.84 per cent, to 2,771.79, the biggest fall in points since the index was launched. The Shenzhen Composite Index plummeted 66.3 points, or 8.54 per cent to 709.81. The Shanghai and Shenzhen 300 index of major companies in the two bourses, lost 250.18 points, or 9.24 per cent to 2,457.49.