Wheat expert wins top science award
(Xinhua)
Updated: 2007-02-27 12:35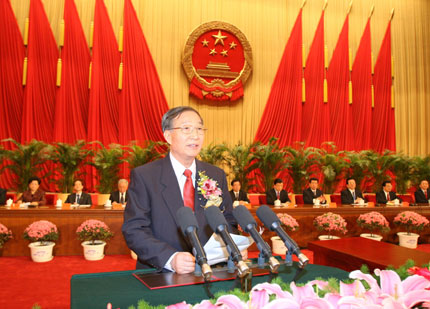 Wheat scientist Li Zhensheng speaks at the award ceremony in Beijing February 27, 2007. Li developed fine strains of wheat through distant hybridization and contributed to China's food security. [Xinhua]


China granted its State Scientific and Technological Award for 2006 in Beijing Tuesday to scientist Li Zhensheng for his achievements in wheat breeding. Li is the tenth Chinese scientist to win this top award.

Chinese president Hu Jintao, with other senior leaders, presented the top award to Li and other prizes to prominent scientists and enterprises that have made remarkable progress in technological innovation at the annual national science-technology prize awarding ceremony Tuesday.

Li was awarded 5 million yuan (about US$600,000) at the ceremony, including 500,000 yuan for himself and 4.5 million for his research.

Li, born in 1931 in east China's Shandong Province, is an academician of the Chinese Academy of Sciences (CAS). He has developed fine strains of wheat through distant hybridization and contributed to China's food security.

He successfully developed the fine wheat strain "Xiaoyan No. 6" in 1979 that features drought endurance, heat withstanding and disease resistance. "Xiaoyan" series greatly boosted the country's crop production in following years.

Li has also introduced chromosome engineering to the breeding of wheat strains with a "nullisomic backcross method", which has reduced the duration of wheat breeding through distant hybridization to 3.5 years, whereas the previous breeding of "Xiaoyan" lasted 20 years.

The project of China's third-generation fighter aircraft Jian-10 (Fighter-10) won a top technological progress award.

The fighter aircraft, developed by the China Aviation Industry Corporation I (AVIC I) after seven years of work, marks a breakthrough in China's research and development of heavy fighter aircraft.

With proprietary intellectual property rights (IPR), the Jian-10 heralds the third generation of Chinese fighter aircraft.

Military observers say the Jian-10 can not match the United States' fourth-generation fighter aircraft in performance but its basic design and onboard equipment are comparable to those of mainstream fighter aircraft in the West.

The award winners also included workers and farmers. One employee of Shanghai Baosteel Group, one employee from FAW-VOLKSWAGEN Co. Ltd and an entrepreneurial farmer from central China's Henan Province shared second prize for the technological progress award for technical innovations.

Innovations from private enterprises accounted for more than 30 percent of the total number of prize winners.

Senior leaders Wen Jiabao, Zeng Qinghong and Li Changchun also attended the event and presented the awards.

The ceremony was jointly held by the Central Committee of the Communist Party of China and the State Council.

Since the State Scientific and Technological Award was established in 2000, ten Chinese scientists have received the five-million-yuan top award, including atmospheric physicist Ye Duzheng, a liver and gall specialist Wu Mengchao, hybrid rice developer Yuan Longping, mathematician Wu Wenjun and IT expert Wang Xuan.
Most Commented/Read Stories in 48 Hours