BERLIN - Director Wang Quan'an's "Tuya's Marriage," which follows the troubles of a young shepherdess in fast-changing rural China, won the top Golden Bear award at the annual Berlin film festival on Saturday.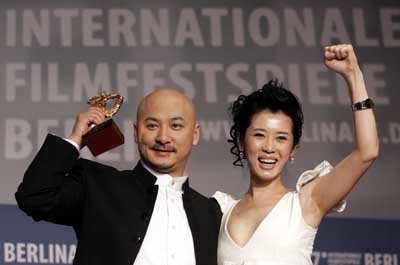 Director Wang Quan'an and actress Yu Nan pose with their Golden Bear during a press conference after the awards ceremony at the 57th Berlinale International Film Festival in Berlin February 17, 2007. Wang won the award for the Best Film ''Tuya's Marriage'.[Reuters]


"Tuya's Marriage" was chosen from among 22 competitors at the festival by a seven-member jury led by "Taxi Driver" screenwriter Paul Schrader.

"A very beautiful dream has become reality for me here," director Wang said after receiving the Golden Bear statuette. He said he believed the award "will bring good fortune to Chinese cinema."

The movie stars Yu Nan as Tuya, a herdswoman on the steppe of Inner Mongolia trying to resist pressure to leave her pastures and move to the city as China's industry expands.

She and her handicapped husband, Bater, decide to get divorced after she falls ill, and Tuya seeks a respectable new husband who can look after Bater and her two children. An old classmate appears to fill that role, and he persuades Tuya and the children to move to town.

"You see in the film how things disappear - cultural things as well - through this rapid economic expansion," Wang, speaking through an interpreter, said at a news conference.

The best actor award went to Argentina's Julio Chavez for his role in director Ariel Rotter's "El Otro" ("The Other") as Juan, a man who decides to take on a new identity amid a crisis triggered by his wife's pregnancy and his father's illness.

Best actress was Germany's Nina Hoss for her role in "Yella," directed by Christian Petzold. Hoss plays the heroine of the film's title, a young woman who quits her job and broken marriage and moves from eastern Germany to the west, and is increasingly haunted by voices and sounds from the past.

US-born Israeli director Joseph Cedar won the best director award for "Beaufort," depicting the fear and futility felt by soldiers guarding a famed military outpost in southern Lebanon just before Israel's withdrawal from that country in 2000.

"It seems pretty obvious that we're against war and that war is horrible - hopefully there's something in my film that gives insight into a more specific nature of how absurd combat ... is," Cedar said.

The Berlinale's top prize has often gone to less heralded productions such as "Tuya's Marriage," which was one of two Chinese entries at this year's festival. Last year's Golden Bear went to "Grbavica," a film by Jasmila Zbanic on the aftermath of the Bosnian war.

On Saturday, the cast of Robert De Niro's "The Good Shepherd" - which traces the origins of the CIA through the eyes of one of its earliest agents, played by Matt Damon - won the festival's award for an outstanding artistic contribution, but the movie missed out on the top prizes.

Other US entries - including Steven Soderbergh's "The Good German" and Gregory Nava's "Bordertown," starring Jennifer Lopez - came away empty-handed. So did a strong contingent of four films by French directors гн including Olivier Dahan's "La Vie en Rose" and Francois Ozon's English-language "Angel."

The award for best music went to Scottish director David Mackenzie for "Hallam Foe." South Korean director Park Chan-wook's "I'm A Cyborg, But That's OK" was honored as a work of particular innovation.

The Berlin festival, in its 57th edition this year, opened on February 8 and ends Sunday.