TOKYO - Chinese Foreign Minister Li Zhaoxing expressed hope on Friday that a rapprochement in ties with Tokyo would stay on course, but also mentioned the wartime past that haunts relations.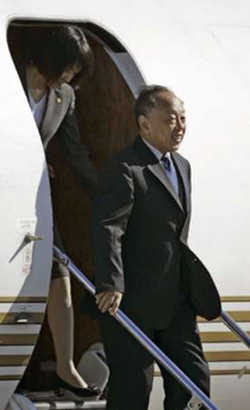 China's Foreign Minister Li Zhaoxing arrives in Tokyo for talks with Japanese leaders on Thursday, February 15, 2007. [Reuters]


Li arrived in Tokyo on Thursday for talks aimed at smoothing the way for an April visit by Premier Wen Jiabao that would be the first by Chinese prime minister since 2000.
That visit, during which Wen may address parliament, would symbolise a thaw that began when Japanese Prime Minister Shinzo Abe took part in an ice-breaking summit in Beijing in October.
"The prime minister said that he is eagerly looking forward to Premier Wen's visit," Li told reporters after paying a courtesy call on Abe.
Speaking to a gathering of Japan-China friendship groups earlier in the day, Li noted that this year marks the 70th anniversary of the Marco Polo Bridge incident -- a spark for the Sino-Japanese War -- as well as the 35th anniversary of normalising diplomatic ties.
"We are facing a great opportunity to further develop our friendly relations," Li told members of the seven groups.
Former Japanese Foreign Minister Masahiko Komura echoed the positive sentiment. "We must further promote this positive trend," he told the groups. "We must not let the trend reverse course."
The two Asian giants appear keen to keep relations on an even keel after the deep chill that developed under Abe's predecessor, Junichiro Koizumi, who made annual visits to Tokyo's Yasukuni Shrine, seen by Beijing as a symbol of Japan's past militarism.
Once known for his tough talk towards China, Abe has worked since taking office in September to repair relations, partly by declining to say if he would visit Yasukuni as prime minister.
Before taking office, Abe had visited the shrine, which honours Japanese World War Two leaders convicted as war criminals by an Allied tribunal after Japan's defeat.
History, however, is likely to haunt ties, especially in a year marking sensitive anniversaries of wartime events including the July 7, 1937, skirmish at the Marco Polo Bridge near Beijing that became a spark for an all-out Sino-Japanese War.
This year also marks the 70th anniversary of Japanese soldiers' 1937 slaughter of Chinese civilians and prisoners of war in Nanjing, during which 300,000 Chinese people were killed.
History aside, present sources of friction also lurk beneath the talk of friendly ties and mutual strategic interests.
Komura touched on one of those, a quarrel over sea boundaries that flared up this month after Japan claimed a Chinese research ship explored in disputed waters in the East China Sea.
China's Foreign Ministry later said the oil and gas exploration in East China Sea is conducted in the undisputed offing continental shelves of China.
The two energy-hungry countries are at odds over oil and gas fields in the area.
"Ultimately, we must make it into a sea of peace, cooperation and friendship," Komura said. "It may be difficult to work on the issue this time, but we would like you to pave the way."
Li was set to meet Foreign Minister Taro Aso later on Friday before departing the next day.