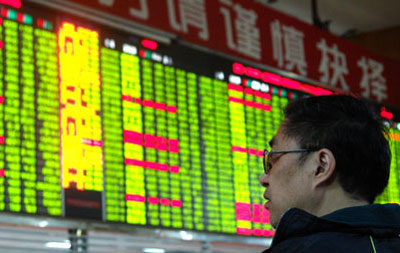 An investor looks at stock information at a securities company in Zhengzhou, Henan Province January 26, 2007. [newsphoto]

Chinese stocks suffered another big loss Friday, adding to a five-percent slide on Wednesday, over worries of stock over-valuation that may prompt regulators to step in to cool the market.
The benchmark Shanghai Composite Index dropped 112.22 points, or 4.03 per cent to 2,673.21. The Shenzhen Composite Index dropped 18.45 points, or 2.8 per cent to 640.87. The Shanghai and Shenzhen 300 index of leading companies slid 97.17 points, or 4.06 per cent to 2,298.00.
The financial and property shares led the decline. China Life, the nation's biggest life insurer, fell 7.24 per cent to 35.99 yuan. The Industrial and Commercial Bank of China, China's biggest lender, was down 3.59 per cent to 4.82 yuan while the Bank of China dropped 3.91 per cent to 4.66 yuan. China Vanke, the nation's biggest publicly traded property developer, fell 7.86 per cent to 14.42 yuan.
Other big caps contributed to the fall. Baoshan Iron and Steel Co, the biggest steelmaker, dropped 6.48 per cent to 8.81 yuan. China United Telecommunications, the country's second biggest mobile phone operator, went down 4.12 per cent to 4.65 yuan. China Petroleum & Chemical Corp., Asia's biggest refiner, lost 6.41 per cent to 9.05 yuan.
Trading was moderate on both bourses, with 8.545 billion shares changing hands in the Shanghai Stock Exchange at a volume of 65.092 billion yuan against 69.673 billion yuan on Thursday and 86.14 billion yuan on Wednesday. In the Shenzhen Stock Exchange, 733 million shares were traded at a turnover of 31.297 billion yuan compared with Thursday's 35.205 billion yuan and Wednesday's 42.49 billion yuan.
Declining shares outnumbered advancing ones by 569 to 197 in the Shanghai Stock Exchange and by 378 to 139 in Shenzhen.
Friday's slide extended a five-percent tumble on Wednesday which came after a top legislator warned about the growing stock market bubble, fueling fears that warnings may turn into concrete steps to cool down the market.
On Wednesday, the Shanghai Composite Index fell 4.9 percent to 2,786.33, its biggest one-day decline since a 5.3 percent tumble on June 7, 2006. The smaller Shenzhen Composite Index slid 5.8 per cent to 655.53.
The two bourses withstood the downward trend Thursday, but the previous day's dive greatly affected investor confidence.
Many analysts saw the fall as a natural correction, believing the market would continue a bull run in the long term.
China's stock market witnessed a dramatic rally over the past 15 months boosted by soaring demands from retail investors.
Before Wednesday's tumble, the Shanghai index, which tracks China's biggest companies, was up 9.5 percent for the year after soaring 134 percent last year. The Shenzhen index, meanwhile, had soared 26.4 percent since the start of the year before Wednesday's drop.
The rally over the past year came after a five-year slump in mainland share prices, when China was one of the world's worst-performing markets.

| | | |
| --- | --- | --- |
| 1 | 2 | |