Yang Fuxi, China's last known traditional bow and arrow maker, is plying a dying craft and has made it his mission to keep it alive.
One man against the crushing forces of modernity, the 48-year-old Beijing resident says he owes it to his ancestors and to the Chinese nation as a whole.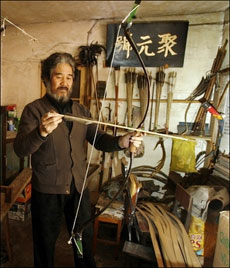 Yang Fuxi pulls out a bow and arrow from his creations at his workshop in Beijing. Yang, 48, is China's last known traditional bow and arrow maker plying a dying craft which he has made his mission to keep alive against the overwhelming forces of modernity. [AFP]


"I feel a responsibility towards history. A huge responsibility," he said as he sat on a stool in his small cramped workshop in a corner of a residential compound. "I know I have to do it as well as I can."

As he explains his craft, he draws on the encyclopedic knowledge accumulated by more than 100 generations of bow makers.

"A good bow should be made from Jiangsu bamboo, and should be reinforced at the ends by elm wood," he said. "It will stay flexible, at least north of the Yangtze river, where humidity is lower."

The traditional Chinese bow reached a stage of near-perfection as early as the mid-third millennium BC, according to Yang, and was in continuous use until the end of the Qing dynasty (1644 to 1911), the last in imperial history.

Then the ancient craft disappeared virtually overnight, as 20th century weapons technology forced itself upon a backward-looking China, leaving no one to carry on the long tradition of archery.

"Its 4,500 years of uninterrupted history would have come to an end if I hadn't succeeded in carrying it on," said Yang, a proud smile flashing across his thickly bearded face.

Yang is keenly aware of his background, hailing from an old bow-making family of ethnic Manchus, people who conquered China on horseback in the middle of the 17th century.

The 10th owner of his business, Ju Yuan Hao, he represents a link connecting the ancient trade to the future, but he readily concedes that link almost broke.

During the early days of communist rule, Yang's father was ordered to stop making bows as it was considered a wasteful occupation in a time of dire material need. Instead he spent the rest of his working life repairing furniture.

Skills of a dying craft stretch back 4,500 years

When it was time for Yang to choose a profession, he thought it safer to become a carpenter, a politically correct choice at the time but still not one that brought him satisfaction. Later he drove taxis.

"When I was 40 I decided to turn to making bows and asked my father to teach me," said Yang. "Everything I know, I learned from him."

Now Yang is in demand as he is believed to be China's last bow maker, and his skills were recently celebrated in a profile on national television.

Yang's customers, who pay 3,800 yuan (490 dollars) for a bow, are evenly divided between foreigners and Chinese.

Some of his customers are experienced archers like himself -- but few appreciate just how much time and effort goes into making a bow.

It is an assignment that cannot be rushed, and a craftsman using traditional methods will need at least a year to complete one bow, Yang explains.

"The back of the bow has to be strengthened with layers of ox sinew," he said. "Once a layer of ox sinew has been glued onto the bow, you have to wait at least a week before gluing on the next layer."

Yang learned his patience from his father, and is not sure it exists in a younger generation addicted to the fast pace of modern life.

Bow making is gruelling and sometimes just plain dull, and while Yang has had a series of would-be apprentices, he says he had to let them go before he could teach them the secrets of his trade.

"It's a big problem finding a successor. But I've still got time to wait for a person with the right character," he said.

"My son is 19, and he'd like to become the one. But he belongs to a privileged generation that's not used to the hardship my generation took for granted."

While Yang is keeping an open mind as he looks for a someone to carry on the tradition, there is only one general precondition as he sifts through potential candidates: his successor must be male.

"I'd say a woman can handle about one third of the tasks," he said.

"They can put the arrows together or paint the final set. But the hard physical work of building the bow is for men, I'm afraid."