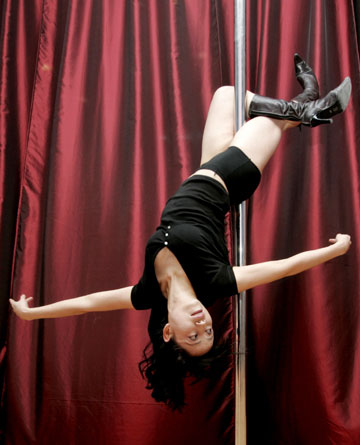 A dance instructor shows a move to students at Roland pole dancing school in Beijing in this December 9, 2006 file photo. Treadmills are run-of-the-mill -- Luo Lan wants the Chinese masses to pole dance instead. [Reuters]

Treadmills are run-of-the-mill -- Luo Lan wants the Chinese masses to pole dance instead.

As manager of Beijing's first pole dancing school, Luo says she is trying to make exercise fun -- and not morally corrupt anyone in a country where this kind of dancing is associated with seedy bars and sex is still a taboo topic.

But she admits she has had a tough time convincing people that pole dancing, which has a celebrity following said to include pop star Britney Spears and heiress Paris Hilton, is great for your health.

"When I first started people would only come furtively, and not tell their boyfriends or husbands," Luo told Reuters in the apartment she has converted into a dance studio with poles bolted to the floor and roof.

"But over the last year, people have started to hear more about pole dancing, and they know it's purely for keeping fit," she added, as one of her students in black hotpants writhed around a shiny steel pole.

"Now people come and say, oh, my husband let me sign up. This progress is very obvious," she added. "The more and more people do it the wider the acceptance will be. They'll see that it's normal and natural."

Luo started her pole dancing school, located in a fashionable part of Beijing, last July after realizing that nobody in the city was offering classes in what had become a fashionable way to shape up and lose weight in the United States and Europe.

"Lots of girls love pole dancing, but like me could not find a place to learn. So I spent a lot of time doing research, watching DVDs," Luo said.

"It's not hard like ballet. It's very easy to do."

Gym membership has become increasingly popular with China's newly affluent middle class, who are keen to shape up in a country where obesity levels have risen with incomes over the last few decades on the tails of an economic boom.

Luo now runs up to three classes a day, for a maximum of seven students, who pay 110 yuan ($14.15) a session.

"I love the feeling, just like flying," said Xiao Wei, demonstrating a recently learned move. "My legs were quite fat before, and the results have been very obvious."

Another student, Yuan Xi, dismissed concerns that pole dancing is just for bar girls or strippers, adding that her love of the pole had nothing to do with sex.

"China is a very conservative country, and many people cannot accept this," said the 22-year-old. "Some men seem to think it's only about sex, but it's not. It's about dancing."