WASHINGTON - Incoming number-two US diplomat John Negroponte has said Washington should adopt an engagement policy at all levels with China.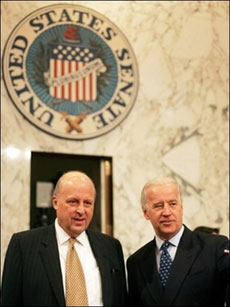 John Negroponte (L), nominee to be Deputy Secretary of State talks with US Senator Joe Biden (D-DE), Chairman of the Senate Foreign Relations Committee before his hearing begins on Capitol Hill in Washington, DC. Negroponte has said Washington should adopt an engagement policy at all levels with China. [AFP]


Negroponte, currently the top US spy chief and set to become Secretary of State Condoleezza Rice's deputy, also told a Senate hearing on his confirmation that it would not be wise for Washington to review its policy on Taiwan.

"I think we need to engage China on all levels and I think that ought to be our approach to that country, not one of confrontation but engagement," said the 67-year-old veteran foreign service officer whose career began in Asia.

"China is a very important country. And it's going to be for the century ahead of us. I think it's in our interest to engage China," he said.

Negroponte also said that he expected to resume a US-China strategic dialogue launched by the previous deputy secretary of state, Robert Zoellick, before his resignation in July last year.

Zoellick had challenged China to be "responsible stakeholder" in the global economy.

Indicating that he has a firm grasp of China's history, Zoellick said he had gone to Beijing as early as 1972 with former top US diplomat Henry Kissinger shortly after then President Richard Nixon's landmark visit to that country.

"I was involved in the first outreach to China back in the early 1970s," he said.

When asked at the hearing about his opinion on Taiwan leader Chen Shui-bian's push for a new constitution, Negroponte cited Washington's adherence to a "one-China policy" and three US-China communiques issued after Nixon resumed contacts with China in 1972.

"We believe that it would be unwise to do anything that might be at cross purposes with those three," Negroponte said.

Pressed by Senator Lisa Murkowski, an Alaska Republican, if the proposed new Taiwanese constitution would violate the communiques, he said, "I would want to study the implications but it certainly strikes me that that would be a distinct possibility".

In the three communiques signed between 1972 and 1982, the United States recognized that there is only one China, including Taiwan, but did not explicitly adopt that view as its own.

Negroponte also said that he expected to spend much time trying to secure peace in Northeast Asia, which has been threatened by North Korea's nuclear brinkmanship.

On ties with Japan, the top Asian ally of the United States, he said he expected to devote "an important amount of time" to nurture that relationship.

He said, "Our relationship with Japan has always been a corner stone of our policy towards East Asia.

"I don't think we should take the relationship for granted, I think it needs to be nurtured and Japan remains one of our most important allies in the world."