China's top offshore oil and gas producer CNOOC Ltd said yesterday it aimed to lay a solid foundation for robust long-term growth beyond 2007, with several new projects to begin next year.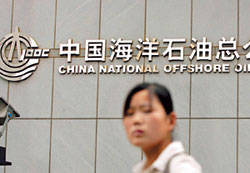 A woman walks past the headquarters of the China National Offshore Oil Corp in Beijing. The company said yesterday its overall production in 2007 will be flat at 162 to 170 million barrels oil equivalent. [AFP]

"The company's overall production in 2007 will be flat at 162 to 170 million barrels oil equivalent (BOE) under the WTI crude oil price of $62.80," said Yang Hua, executive vice-president of CNOOC, in Hong Kong yesterday.

"Although the production target for this year has not seen a substantial year-on-year increase, it will lay the foundation for several new projects, which will be put into operation in 2008 and 2009," Yang said.

The firm's production volume for 2006 is estimated at 165 to 168 million BOE. CNOOC said damage to its Liuhua oilfield facilities caused by Typhoon Pearl last year was partly why it is expected to pull up short of its 170 million BOE production target.

"Because of the damaged Liuhua field, the production target for this year is not high. But with more projects coming on stream, I can say that our output may reach 190 million barrel oil equivalent for 2008, or even higher for 2009," Yang said.

Five CNOOC projects are scheduled to come on stream in 2007, with 10-plus projects under construction. Its investment budget will hit more than $4 billion this year, while exploration costs will reach $512 million, according to Yang.

Related readings:


CNOOC to acquire Yemen LNG


Energy giants plan output hike


Energy: China builds LNG plants in Iran


Petrochemical industry oils Huizhou economy


CNOOC to develop Iranian gas field

Most of the $512 million exploration budget (75 percent) will go to local projects, which can be categorized as mature, rolling and frontier areas.

Major projects either on stream or in progress this year are Penglai 19-3 phase two, Huizhou 25-4, SES gas phase two in Indonesia, Wenchang oilfields and OML130 in Nigeria.

CNOOC's criteria for selecting and evaluating projects at home and abroad are based on three key areas oil and gas reserves, economic returns and risks, Yang said.

"The risks involved in the Nigeria project are acceptable, because the operator is not CNOOC Ltd itself and the field is far away from the continent," Yang added.

CNOOC's parent firm China National Offshore Oil Corp told China Daily earlier that its priorities for 2007 will be the construction of the refinery with 12 million tons of capacity, exploration works in the Bohai Sea and South China Sea, the oil sand program in Canada and liquefied natural gas (LNG) projects in Shanghai Municipality and Fujian Province.

Offshore upstream field developer CNOOC is turning its attention to the downstream segment of oil refining to enrich its business. That is why it is pinning high hopes on the 12-million-ton refinery project in Huizhou of Guangdong Province, according to an independent oil analyst.

CNOOC is a Hong Kong-listed public company that engages primarily in the exploration, development and production of crude oil and natural gas offshore in China. Yang said yesterday that CNOOC would not tap the oil product retail business in China.