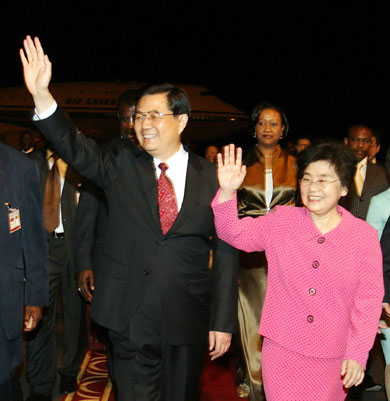 Chinese President Hu Jintao (L) and his wife Liu Yongqing wave well-wishers upon their arrival in the Cameroonian capital of Yaounde January 30, 2007, kicking off his eight-nation Africa tour. Hu will also visit Liberia, Sudan, Zambia, Namibia, South Africa, Mozambique and Seychelles. [Xinhua]


YAOUNDE -- Chinese President Hu Jintao arrived in the Cameroonian capital of Yaounde on Tuesday, kicking off his eight-nation Africa tour.

Hu's visit, described as a journey of friendship and cooperation, is a major follow-up action for the Beijing Summit of the Forum on China-Africa Cooperation (FOCAC) held last November.

Cameroonian Prime Minister Ephraim Inoni greeted Hu and the Chinese delegation at the airport.

During his stay in Cameroon, Hu will hold talks with Cameroonian President Paul Biya on consolidating friendship and expanding cooperation between China and Cameroon.

The China-Cameroon relations have grown increasingly mature, with mutual trust enhanced, economic and trade cooperation expanded, and human resources exchanges deepened in recent years, .

Over the past 36 years after the two countries forged diplomatic ties, the China-Cameroon relations have witnessed steady growth with continuous vitality and dynamism, President Hu said in a written speech delivered at the airport.

The two countries have maintained frequent exchanges at high level and about three months ago, Biya attended the Beijing summit.

Bilateral economic cooperation has also scored rapid growth. In the first 11 months of 2006, trade volume between China and Cameroon amounted to 338 million U.S. dollars, or a 101 percent increase over the corresponding period of the previous year.

Cameroon is the first-leg of Hu's eight-nation tour which will also take him to Liberia, Sudan, Zambia, Namibia, South Africa, Mozambique and Seychelles.

The trip is "another major diplomatic move by China toward African nations" after the Beijing Summit, Liu Jianchao, spokesman for the Chinese Foreign Ministry, told a regular press conference before the visit.

At the Beijing summit, Chinese and 48 African leaders, most of them heads of state or government, agreed to establish and develop a new type of strategic partnership featuring political equality and mutual trust, economic win-win cooperation and cultural exchange.

Liu said President Hu's visit is aimed at deepening the traditional friendship and realizing the agreements reached during the Beijing Summit, including the eight commitments President Hu had made to benefit the African countries.

"China believes that Hu's tour would further cement its traditional friendship with Africa, promote substantial cooperation in various fields, and boost its new-type strategic partnership with Africa," Liu said.

On Monday, China announced to write off debts owned by 33 heavily indebted and least developed African countries that have diplomatic relations with China. The debts, in the form of interest-free government loans, matured at the end of 2005.