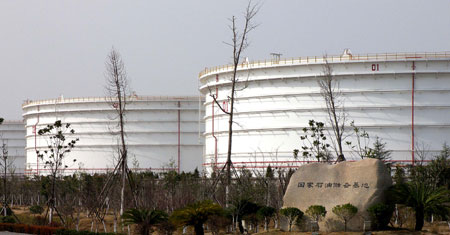 China's first strategic oil reserve has gone into operation in Ningbo, Zhejiang Province. [newsphoto]


China has begun operating its first strategic oil reserve, an official in the National Development and Reform Commission said.

"China's first strategic oil reserve has been filling with oil and begun operations, and China's plans for its strategic oil reserves are now progressing in an orderly way," Xinhua said, citing Zhu Hongren, deputy bureau chief for the economic operations bureau.

The filling of the tanks, in Ningbo, Zhejiang Province, represent the latest step in the country's gradual effort to secure a strategic oil reserve.

But the challenges represented by the country's massive size could make building up a reserve difficult.

"China strategic oil reserve began later and is smaller in scale than the United States, Japan and other countries," Zhu said. "China has a large land mass and a large population, so relatively its oil reserve capacity is insufficient."

The government approved the construction of four national strategic oil reserve bases in 2004. The other three are in Daishan, also in Zhejiang Province; Huangdao, in East China's Shandong Province; and Dalian, in Northeast Liaoning Province.

It has been reported that the government plans to have a reserve of some 150 million barrels of oil.

Official statistics show China imported a record 145.18 million tons of crude oil last year, making it the world's largest oil importer after the US and Japan.

Meanwhile, a senior official said China had formally adopted a new pricing system for refined oil products but would still take domestic conditions into account when setting prices. Asked whether China had brought in a system based on international crude prices plus a fixed margin for refiners, Han Yongwen, general secretary of the National Development and Reform Commission, said: "Yes. But we need to take into account what the domestic population can bear."

New oil pricing system

China's rising number of motorists could be in line for sharp petrol price rises under a new state pricing scheme, dubbed the "crude price plus cost" method, for oil products.

Han Yongwen, secretary-general of the National Development and Reform Commission, said on Tuesday the commission, the nation's top economic planning agency, considered the trial operation of the new system would help put an end to heavy losses in the oil processing and petrochemical industries.

Industry observers believe the new system means domestic oil prices will become more closely linked to those on international markets, and consumers will have to bear bigger-margin price rises on imported oil.

Han said the "crude price plus cost" method was based on the Brent, Dubai and Minas crude oil prices, taking into account processing costs and possible opportunities for enterprises to profit.

A senior official with a Chinese oil processing company, which is preparing to launch an IPO (initial public offering) in Britain, said, "The news will send a signal to investment banks that our company will have a stable profitability. This will help secure a higher IPO price for the company."

China's rising car ownership has fueled demand for oil products. But the oil processors have failed to profit from the brisk sales, as prices of fuel oil are under rigid state control and international crude oil prices have been generally rising.

Sinopec, China's leading oil processing and petrochemical enterprise, relied on imports for three quarters of the total crude it processed a year. It was highly sensitive to price hikes on international crude markets. It often bought crude at a high price, but sold oil products at a low price, as prescribed by the state to stabilize the domestic market and safeguard consumers' interests.

Though the state subsidized the company substantially in 2005 and 2006, the move failed to stem losses for the oil refiner and petrochemicals producer.

Industry observers said China needed to build more oil processing facilities to meet mounting demand.