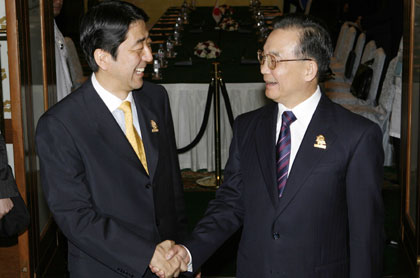 Japan's Prime Minister Shinzo Abe (L) shakes hands with China's Premier Wen Jiabao before a bilateral meeting during the 12th Association of Southeast Asian Nations (ASEAN) summit in Cebu, central Philippines, January 14, 2007. Wen is set to visit Japan in April. [Reuters]


Foreign Minister Li Zhaoxing met Japan's Vice-Minister for Foreign Affairs Shotaro Yachi in Beijing yesterday afternoon against a worrying backdrop, after a Japanese rightist group announced plans for a documentary film denying the 1937 Nanjing Massacre.

On Monday the group announced plans to make the documentary, in response to new documentary film Nanking, from AOL Vice-Chairman Ted Leonsis, which is inspired by Iris Chang's Pulitzer Prize-winning best-seller The Rape of Nanking.

Leonsis' film which won a coveted competition slot at the Sundance Film Festival is based on interviews with 80 survivors and diaries and journals from eight Western missionaries who were in Nanjing during the massacre.

Bombarded with questions about the rightist group's plans for their own documentary at a regular press briefing yesterday, Foreign Ministry spokeswoman Jiang Yu said: "The evidence of the Nanjing Massacre is irrefutable and the international community long ago came to a consensus over the event.

"It would be conducive to better relations for Japanese to take a correct and responsible attitude toward history so as to win trust from their Asian neighbors."

Wen to visit Japan

Despite controversy over the film, Li told Yachi Premier Wen Jiabao would be going ahead with a visit to Japan in April.

Yachi is in Beijing for a new round of Sino-Japanese strategic dialogues, which started yesterday.

The talks, led by Deputy Foreign Minister Dai Bingguo and Yachi, cover

bilateral ties and issues of common concern.

The two countries launched their first round of strategic dialogues in Beijing in May 2005, at which they agreed to continuing consultations.

The current series of meetings will end tomorrow.

Dorm case continues

Meanwhile, the Japanese Supreme Court has started hearings on the ownership of a dormitory once home to Chinese students studying in Kyoto.

Guanghualiao (known as Kokaryo in Japan), was once a five-storey dormitory that Kyoto University rented to Chinese students during World War II, according to the Foreign Ministry's website.

The building has been occupied and used by Chinese students since the Japanese surrender and without involvement from Taiwan's authorities, despite Taiwan's "mission" in Japan purchasing the estate in May 1950 with funds raised by selling properties the Japanese army had claimed in China during the war.

Although the estate was bought by Taiwan's "mission", the Chinese Embassy to Japan and Consulate General in Kyoto have looked after the building and contributed special funds for its maintenance, and it has continued to be used as a dormitory by Chinese students.

Plaintiffs representing Taiwan's authorities first brought the province's claim on the building to court in 1967.

It was overruled in 1977 at the Kyoto Local Court, but in its ruling and review in 1982 and 1987, the Osaka High Court overturned the first ruling.

"The Guanghualiao case is not merely a property case, but a political case concerning China's legitimate rights," Jiang said.